Requirements to RECERTIFY as a referee for 2020
U.S. Soccer has decided to postpone or cancel a number of scheduled events through April 30 because of the outbreak of COVID-19. Safety and health of everyone is our highest priority. For this reason, Michigan Referee Committee has modified the referee certification process ….complete ALL six (6) steps below to recertify.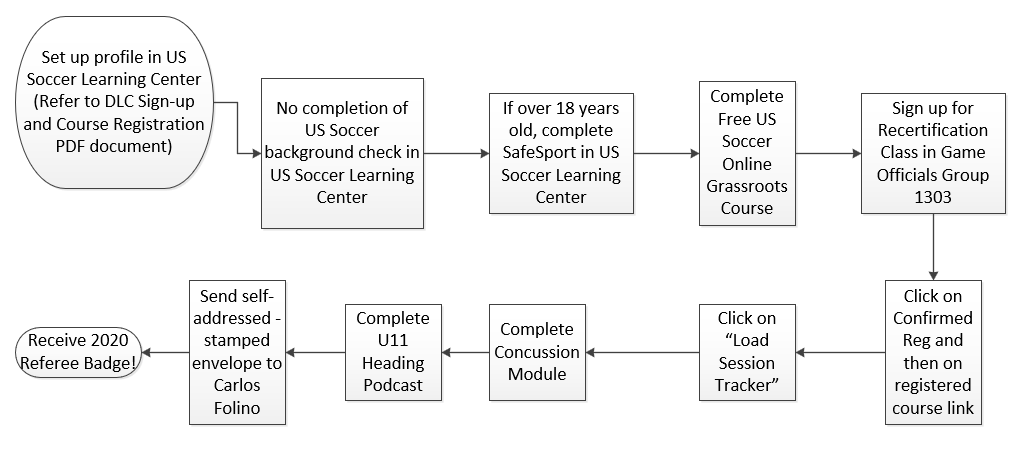 All referees MUST access the U.S. Soccer Learning Center and "Sign Up" or "Log In" to create a Referee profile. (follow the instructions found at this link – DLC Sign-up and Course registration

).

Use the same email and name that you previously have used for prior years registration. The new U.S. Soccer database will migrate your existing certifications to your new profile. 

(Migration/merge problems – within your U.S. Soccer Learning Center account –

go to your main profile page, click on "missing information", and request a profile merge. These will be processed within 2-3 business days).

 

U.S. Soccer now requires new referees to have attained the age of 13 on or before the date of registration. However, they will "Grandfather" all existing referees.  Do NOT attempt to "Sign Up" – we have already handled this step. All you need to do is "Log In" and click on "forgot password link" to complete your profile.

DO NOT

complete the Background Check within the U.S. Soccer Learning Center (doing so will cost you $30 for which you will NOT be refunded). 

All Michigan registered referees (18 years or older) complete their

free

background check when you register for a Recertification Course through Game Officials 

(follow step 5 found below within this memo).

All referees that are 18 years or older, must complete the Safe Sport Course. This FREE course is NOW available once you log in at:

https://learning.ussoccer.com/referee/courses/available/7/details/438

Click on "Courses"

Then click on the "Available Courses" tab.

Under "Supplemental courses" – click on "SafeSport" and follow the instructions.

All existing Grade 9, Grade 8, and Grade 7 referees must also complete the FREE U.S. Soccer Online Grassroots Referee Course. (follow instructions found at this link – DLC Sign-up and Course registration

).

If for some reason your password is no longer working – Contact one of the following to assist.

To complete your 2020 recertification,

ALL referees

must

also

register for a course found in Game Officials, group 1303.

Click on the "Courses" tab.

Register for the 31052 Recertification course and complete the on-line requirements (found within the Load Session Tracker button)

Complete the Concussion module.

Complete the U11 Heading Podcast.

If you must return to complete at a later date:

Click on Confirm Reg and click your course link.
Click on the "Load Session Tracker" button.
Complete the modules as needed.

Once you complete all the requirements, please send the following to Carlos Folino.

A self-addressed (your address) and stamped envelope.
A proof of your completion of the U.S. Soccer grassroots module. This may be a print-out of the completion confirmation email you receive from U.S. Soccer or the following to download the U.S. Soccer Online Grassroots Referee Course certificate.

Log on to your U.S. Soccer Learning Center account.
Review your profile.
Course Certificate >Grassroots Referee – Online Module Completion Certificate.
Click on "Download Certificate".

Send both to Carlos Folino, 14210 Kerner Drive, Sterling Heights, MI 48313
You will receive your badge in the mail. Your reception of the badge will indicate that you have been certified as a referee for 2020. A field training session, however, is an important part of the certification process. Once we start our spring season, we will schedule several field training sessions. You will receive a follow-up email on this matter in the future.