Volume 3, Issue 3
March 1, 2022
---
Special Points of interest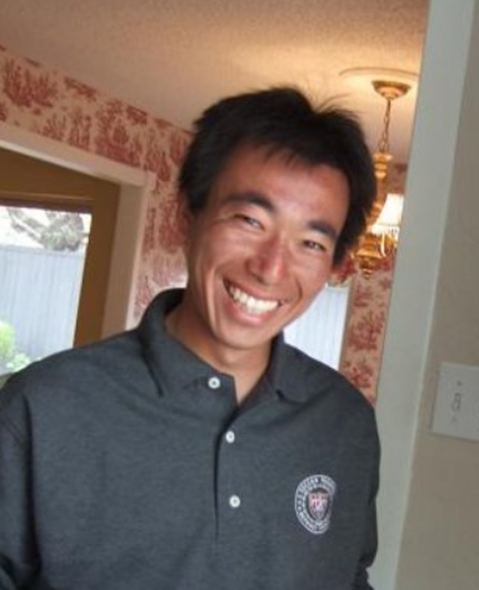 Welcome to the March issue of the MRC newsletter. Many of you have been officiating indoor soccer. Some of you took the last few months off. But for most of you, the first outdoor game of the year may be happening by the end of this month.
We are at the tail end of the recertification season. We still have some classes in March but not too many. If you have not recertified yet (if you don't have a 2022 badge, that means you have not recertified), please make sure to do so before you do your first sanctioned game.
As always, our March newsletter is full of exciting stories and information. We are featuring Ashley Diget for "Referee of the Month." Bill Stiff is the feature official in "Who's Who." Some of you work with his as an assignor. We will also hear from Christian Little. He had his first MLS preseason game in February.
Beyond this newsletter, please be sure to follow our Twitter (@MichiganReferee), check out our blog, and subscribe to our YouTube Channel.
Referee of the Month: Ashley Diget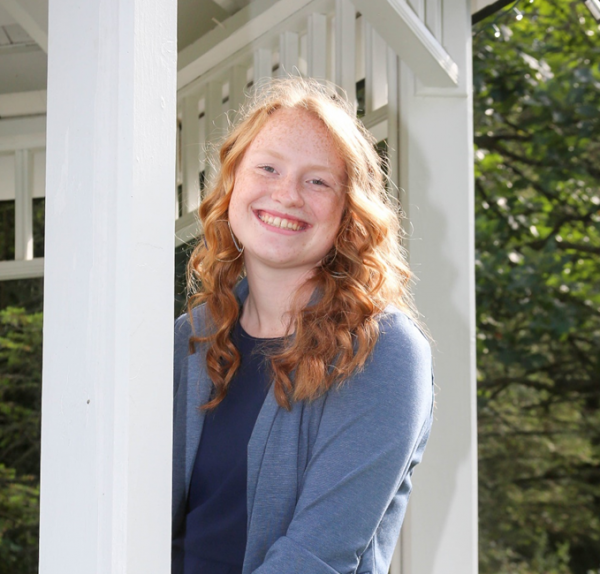 When and why did you start refereeing?
I started refereeing in the summer of 2017. The first time I reffed is a funny story. The day after I took the certification class, I ARed my first soccer game. My sister had gotten sick that night and when my dad contacted the assigner, they couldn't find anyone to cover her. So, my dad informed them that I had just passed the certification class and they immediately signed me in to cover for her. Less than 24 hours after I was certified, I reffed my first game. Naturally, I was very nervous, but I had a blast while reffing. This coming year will be my 5th year refereeing.
I originally wanted to start refereeing because I wanted to understand the game of soccer better. I have spent my whole life playing soccer but as a referee, not only can I play the game, but I can work the game and be in charge of the match. Since I've started college, I haven't had as much time to play soccer but with refereeing, I can keep the game that I love in my daily life, so it is absolutely worth it.
What do you enjoy the most about refereeing?
I enjoy seeing the smiles on the kid's playing soccer. I like to see how much joy the game brings to them because I have the same joy while playing as I do while refereeing. I also love meeting the new referees and hearing about the infamous games that the old referees managed.
What are some of your best refereeing memories?
I love refereeing with my dad and my sister; those are always good memories. A lot of my favorite memories occur at tournaments when I got to meet with referees from all over Michigan and I heard about their unique experiences. I also had a great surprise in 2020 when I won the Michigan Youth Referee of the Year award and attended State Cup in the spring of 2021.
What would you like to achieve as a referee?
I want to gain the most experience I can get in the refereeing world so that I can continue to give back to the sport that has been a huge part of my life.
What do you do when you are not on a soccer field?
When I am not in the field, I am studying at Western Michigan University for my bachelor's degree in Civil Engineering. Currently, I am finishing up my sophomore year. Outside of studying, I am either coaching soccer, spending time with friends, or traveling.
Moving Up the Ladder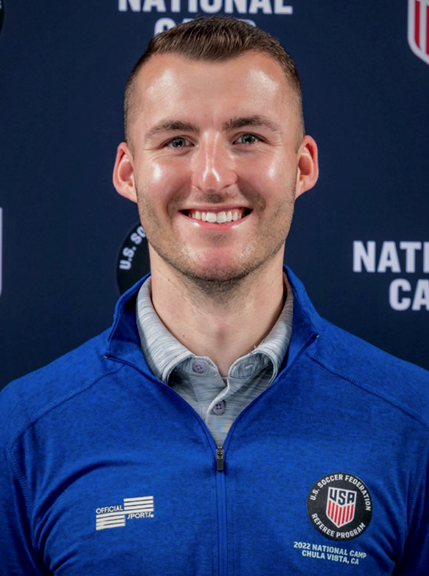 In February, Christian Little, a national assistant referee, was assigned to a preseason MLS scrimmage. We interviewed him to learn about his special experience from the game.
Which preseason MLS game were you assigned to?
I worked on Austin FC (MLS) vs. Louisville City FC (USL-C).
How did you learn that you were assigned to the game and what were your first thoughts?
Like all PRO assigned matches, I first learned of my assignment after receiving a new assignment email from PRO's assigning database. But first, that morning around 8:30am, all PRO officials received a mass email from Mark Geiger, the Senior Director of Match Officials for PRO. This email was to kick off the 2022 MLS Preseason and notify us all that assignments for upcoming MLS scrimmages and exhibition games will begin to be assigned. Reading that email, I was hoping to be included in the pool of officials that would be considered to work these matches but always assumed they were exclusive to current Bargaining Unit MLS officials. However, around 11am, my email notification on my phone went off and all I saw was "PROsphere new assignment" in the subject line. Anytime I get an email with that subject line, whether that be for a USL-1 or USL-C match, I know I was given another amazing opportunity to showcase my talents and referee at some of the highest levels of soccer in the country. However, seeing "MLS" in the email is something I truly can't put into words. Like many referees, I started at a very young age and did local WSSL games. To now being given opportunities to be in the presence of professional clubs and players that we see on TV is surreal to me.
What was the highest level game you had had before this game?
During the 2021 regular season, I was very fortunate to travel to and referee the current USL-1 Champions, Union Omaha, twice. Also, my final assignment of the year was traveling to Louisville City FC. To me, their atmosphere is the closest to an MLS setting as you can get. I am proud to be part of the AR pool for USL-C and USL-1 matches and truly treat each one of these assignments as my highest-level match. Points in these leagues mean so much week in and week out so each match has the potential to possess a playoff atmosphere. In the past, I was very proud to be part of the crew on the USL2 National Championship and part of Lamar Hunt U.S. Open Cup crews as well.
How did you prepare for the game?
Unlike most PRO assigned matches where assignments are released 3 weeks in advance, this match was assigned only a week prior. However, maintaining a consistent routine relating to diet and mental and physical training throughout the year allowed me to not be at a disadvantage. I never truly "check out" from refereeing as it's something that has become a daily part of my lifestyle. Luckily for me, I saw Louisville City FC on my last assignment of the season in October 2021. Therefore, I had familiarity with their style of play, tactics, and who their impact players were. I have never seen Austin FC before so that was something I had to dive into. With an MLS team like Austin FC, we are fortunate to see these players on demand through TV and highlights. Here, I used the log of 2021 regular season matches as a source of information on their team. Talking with my crew prior to the match was also very helpful.
What stood out about the game?
What stood out for me was that this was at Austin FC's closed training site. With little to no spectators outside of each team's technical staffs, it really allowed the players to focus on their skills and eliminate the entertainment factor. This also carried over to us as a referee crew and allowed us to focus primarily on our fundamentals and eliminate any outside noise. Therefore, when we do get to the matches were there are thousands of fans during the regular and playoff seasons, we are better prepared. Even though the atmosphere differed, it was very clear that the match was business as usual for each team.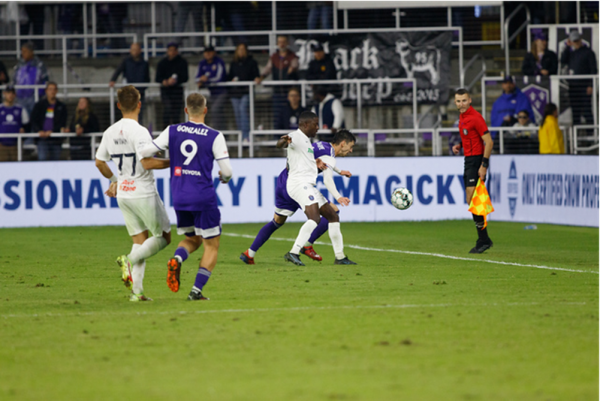 What was similar and what was different between MLS and USL-C?
Tactically and speed wise, there really isn't too much different from USL-C and MLS. However, what separates an MLS team from a USL-C team to me is their technical skills. Everything seems to flow smoother, crisper, and the ball always stays in play. Here, Assistant Referees really have to hone in their skills to read play, focus on the second to last defender, assist with fouls/misconduct, and goal line and touchline decisions at any moment. At any of these professional levels, there is no time to lose concentration. You must always be thinking "what's next" and be prepared for it.
What is your goal for the 2022 season?
For the 2022 season, I really want to take my 2021 failures and use them to expand my successes. With PRO, it is expected to be consistently good while also being occasionally great. So, with this mentality and taking each assignment game by game, I am hoping to have my performances speak for themselves and result in a playoff assignment and a possible promotion to a higher tier in PRO2 by the end of the 2022 season. Day by day.
What advice do you have for aspiring referees?
Refereeing isn't a sprint, it's a journey full of many ups and even more downs. But that's what keep me coming back for more. Enjoy the process and listen to your referee coaches and mentors. I wouldn't be where I am today without the countless individuals from the MRC, referee colleagues, and many other influences nationwide that I now consider amazing friends. Find a learning opportunity from each game you do and each referee you have the pleasure of working beside and add them to your individual toolbox to be better for the next game and to elevate your craft. If you have aspirations to grow as a referee, please reach out! There are so many referees that have valuable knowledge and experience that are willing to assist you in obtaining your personal goals. You just need to be the one willing to put the work in.
Thank you, Christian. And congratulations!
Thank you.
Who is this?
A secret source sent us these two pictures. Many of you know this person. Who do you think this is? Submit your answer here. In the newsletter next month, we will reveal who this is, along with your guesses. Here are the pictures.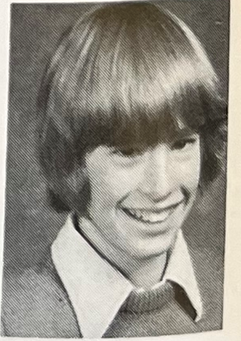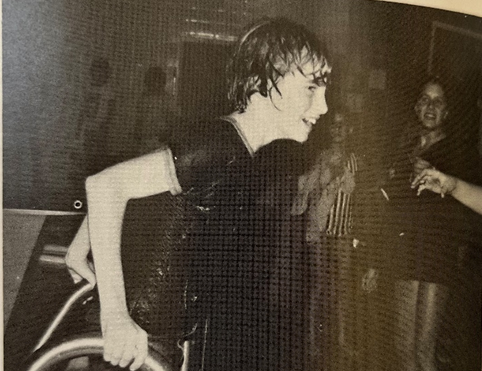 U.S. Soccer Referee Development Quarterly Call
U.S. Soccer asked Yuya Kiuchi, the State Director of Referee Development to share Michigan's experience of training referee mentors in 2021. U.S. Soccer chose Michigan as one of the most successful state referee committees in terms of its mentor training. Yuya was given 15 minutes to discuss what kind of training opportunities had been offered to mentors and prospective mentors in 2021, with a special emphasis on the licensing process. You are able to check out the slides from the meeting here.
Here is the list of current DDRDs.
| | |
| --- | --- |
| Metro West | Jeff Dornseifer |
| Metro East | Brandon Barlog |
| | Alex Plum |
| Flint/Saginaw/Midland | Brad Barlog |
| | Stan Krajkowski |
| North | Bruce Falberg |
| | Kevin Avery |
| Lansing/Jackson | Andrew Hoard |
| Kalamazoo | Jim DeBrabander |
| | Bill Wilkinson |
| Grand Rapids | Kristy Bos |
| South West | Simon Blackwell |
| | Luis Aguirre-Rivera |
Mentor Development Group Update
The mentor development group that started in December 2021 had its final session on Feb 23. The participants have had 6 sessions to learn about and practice each of the mentor tasks. Those who have successfully completed the training have been invited to take the formal mentor licensing training with U.S. Soccer in March. They will be licensed as mentors in a month or so.
If you know of anyone who should become a mentor, please let your District Director of Referee Development (see the list above) know so that they can be recommended to participate in the next development group.
Remembering Tony deRoo
We are very sad to share that Anthony (Tony) deRoo passed away in February. As Bruce Falberg mentioned in his interview, Tony influenced many referees and instructors/assessors in Michigan for many years. He remained active as a referee well into his 80s and has been a referee instructor since 1981. He was also instrumental in launching the Midland Youth Soccer Organization.
Please find Tony's obituary here.
At the conclusion of the event, Esse Baharmast received this year's Walt Chyzowych Fund Lifetime Achievement Award.
Injury Management
We have seen a few no-so-good injury management examples on some of the games at the nation's highest youth level in the last few months. We would like to remind you of a basic philosophy.
If you suspect a serious injury, stop the game. You do not stop a game for an injury because it is a youth game or a recreational game. The criterion to use to decide whether or not to stop a game for an injury is if you suspect a serious injury. So, if you suspect a serious injury, stop the game on a youth game, recreational game, a competitive youth game, or even a professional game. It is this simple.
What qualifies as a serious injury may differ based on the level of the game. The younger the play is, the less likely they are to tell you if they are ok. But if you suspect a serious injury and a player says they are ok, what matters is if you suspect a serious injury. If you do, stop the game. I have not encountered a situation where I had to tell the referee that they were too cautious by stopping the game unnecessarily. It rarely happens if ever. I usually have to tell the referee they should have stopped the game sooner.
But what if you are not sure? What if you stop the game and the player stands up looking fine immediately after your whistle? In that case, don't worry. Err on the side of caution.
Watch this example. In this example (link), the injured player did not move on the ground at all for over 12 seconds before the ball finally went out of touch and the game stopped. The referee saw the injured player and still allowed the play to continue. To make it worse, she was in front of the goal. There was risk for additional injury.
In this example (link), on the other hand, the referee stopped play as soon as he noticed the injury. Ideally, he would have noticed it sooner. But he stopped the game as soon as he noticed the injury. The player ends up standing up right away. The opposing team may ask and complain why you had to stop the game. That is ok.
Before we are referees, we are people. As people, we err on the side of caution. If you suspect a serious injury, just stop the game.
Lifelong Learning Webinar Series
U.S. Soccer Referee Department offered its first Lifelong Learning Webinar Series session of the year on February 15. It had 250 seats available and filled up very fast. Many of you, by the time you saw the email about the event, were no longer able to register for the session. But rest assured. U.S. Soccer said they would offer more sessions, as well as a session for current regional referees.
For this first session of the year, U.S. Soccer invited two referee coaches: Nichole Kramer-Kiuchi and Lauren Parliament. Lauren is a coach from Colorado. They are both one of the referee coaches in the nation (there are only 40 or so of them in the whole country). Their session focused on tactical fouls. There was a lot of interactions between the instructors and attendees.
We hope you will be able to join the next session scheduled for early summer.
Meet Titan!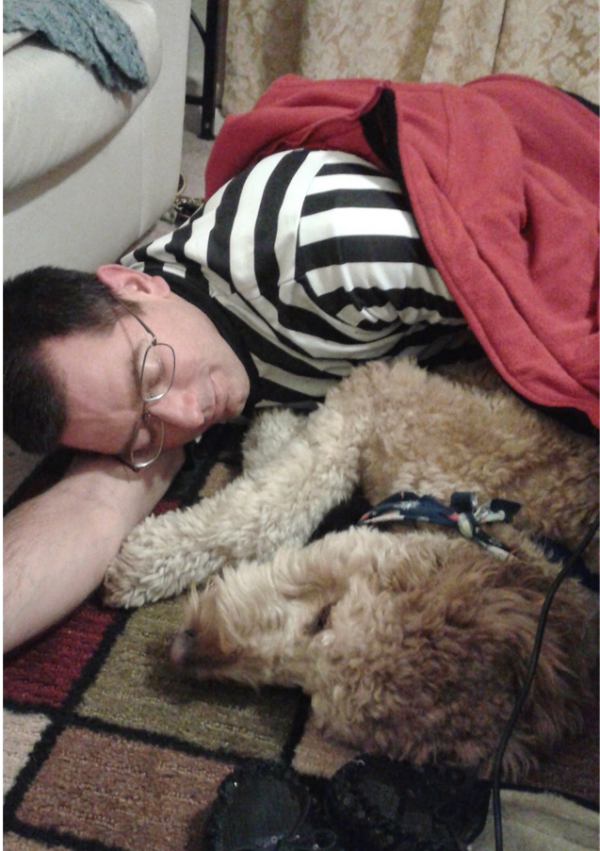 My name is Titan Manteuffel. I am a nine-year-old (soon to be ten) Goldendoodle. I first met Scott and Beth Manteuffel in 2013 and came to live with them in 2015 when my first family was having their house built and then came to live with them permanently in 2016. I don't watch him referee (I can't play with the ball), but I liked to keep his wife company when he was busy refereeing or coaching. I don't help Scott pack for games but I like to go on walks with him so he can be in good physical shape to referee. I usually leave Scott's ref stuff alone because none of it squeaks.
I don't really do tricks but I like protecting my family and playing catch whenever I can. I have several toys that I play with in the house and an American football that we use outside as long as Scott doesn't get it stuck in the snowblower. I learned early on that the bread loaf on the kitchen counter was not for me (boy were Beth and Scott mad at me!) but I've never met a treat I didn't like (Milkbones are always good). I also like it when we play with the tug rope.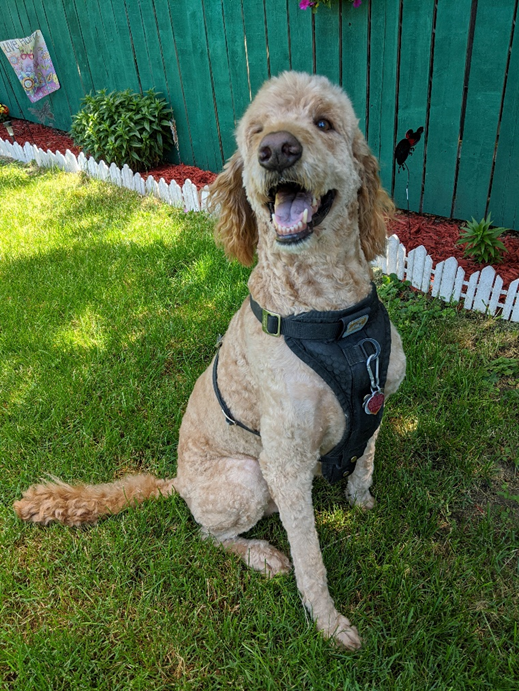 When Scott referees younger players, I like that he tries to help them understand the rules and the sport so they can enjoy it and be better athletes. I don't like when people who don't know what it is like to referee yell at him or make a scene. I know he doesn't care who wins or loses, Scott just wants the players to be able to compete safely and fairly. I also miss playing with him when he is at his games.
What is Your Call?
In the February newsletter, you were given a clip that showed a possible tactical foul. The survey asked you to identify what action would have to be taken.
The February video was this.

This month, we have a lot of differing answers. All but one answer options were selected by at least one person.
First of all, this is a foul. The attacker is ahead of the defender and the defender trips the attacker from behind. Although you might be tempted to make an argument that the trip was accidental as the defender was simply chasing the attacker to catch up with her, the defender still tripped the attacker. Therefore, this is a foul. This type of contact happens even on local youth games. A player who is chasing an opponent close by must be careful not to trip the opponent, even accidental. Or it will have to be called a foul.
The tripping offence itself is not reckless or with excessive force. Therefore, based on the severity of the offence, this is a careless foul, not needing a card.
However, we must also think of the tactical nature of the incident. First, consider if this is a DOGSO situation. 12.5% of you had a DOGSO on this situation.
Let's look each of the considerations.
Direction: The play is headed toward the goal. The play is not headed to a touchline or a corner. The general direction is toward the goal.
Distance: The play is 10-15 yards outside the penalty area. Close.
Number of defenders: There is only the goalkeeper left.
The last consideration is control. On this point, Law 12 says "likelihood of keeping or gaining control of the ball." Because the attacker has not controlled the ball yet, there is no "keeping" control. The question, therefore, is "gaining" control.
What do you think? Do you think the attacker would have controlled the ball if the defender had not tripped her? Look at how the ball bounced. It did not bounce forward by 10 yards. It bounced up and went forward only by a few yards ahead of the attacker. The goalkeeper was about a yard past the penalty mark. The attacker would have gotten the ball way before the goalkeeper. Furthermore, the goalkeeper was moving backwards.
Based on these considerations, this was a DOGSO situation. Because the offence happened outside the penalty area, there is no need to even think about downgrading to a yellow card. The correct answer was a foul with a red card for DOGSO.
This month, we will focus on a challenge. You can find the video here.
You can submit your answer here.
Who's Who in Michigan: Bill Stiff
When and why did you start refereeing?
I started refereeing in 2003, when my daughters began to play travel soccer. I did it to further my understanding of the game and to help out, as there always seemed to be a shortage of officials.
What do you enjoy the most about refereeing?
Probably the exercise and getting to know people from a large swath of the community. Referees are a very diverse group.
What are some of the best memories from refereeing?
I have always enjoyed the mentoring side of things as a referee. When I see an official I have worked with and helped become better move their way up the ranks, I take pride in their development.
How else are you engaged in soccer beyond refereeing?
Along with my assigning partner Tom Coatoam, I assign for 26 clubs and multiple tournaments throughout the state.
Do you have a favorite pro sport team?
The Detroit Tigers
What you like doing for your pastime? Where can we find you when you are not on the field? How you spend your time during the offseason?
I enjoy travelling, concerts, theater and movies. As an assignor, there is no offseason as games continue throughout the winter.
Do you have any advice for new referees?
Keep your calendar on Game Officials up to date, honor your assignments, and take games you feel comfortable doing. We lose way too many officials each season because they are put in positions that they are not equipped to handle.
Empower Your ARs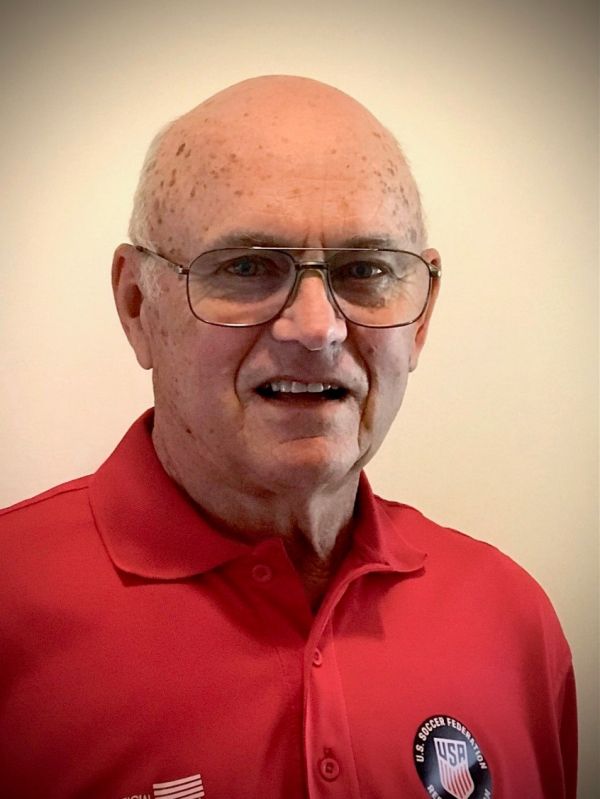 When you are refereeing using the 3-referee system, teamwork is a key factor in making sure that the game is officiated in a fair and equitable manner.
There are times when the referee's vision is blocked. Even a very fit referee can find themselves too far from play on a quick counterattack or their angle of view may not be optimum for an accurate decision. In a crowded penalty area, the referee may not see a foul when their vision is blocked.
A problem arises when referees try to take it totally upon themselves for all fouls in the center of the field and in the penalty area. Ego has to give way to good teamwork to make sure odd or one-time incidents can be judged accurately. How many times have you heard a referees say "Let me have the penalty area" telling the AR not to flag for a foul in the penalty area that would result in penalty kick. This is an example of a referee who is setting themselves up for potential disaster.
Let's look at a few situations where an AR's input would be invaluable to making a key decision.
On quick counterattacks center referees can be caught severely behind the play especially with a forward streaking toward the opponent's goal with only one opponent defending. The referee in addition to being far from the play may have other players blocking their view. More importantly the referee may not have a good angle on the play to judge if a foul has been committed against the attacker. The situation may be a DOGSO event or perhaps the player may have simply fallen without any contact. If the attacker gets held, tripped or charged the referee has no idea what happened.
Who already has a good angle on the play? Who could tell if a foul has been committed? The lead AR is already in great position to determine this. The AR already has a good angle to view the incident from their position on the touchline. If the referee has empowered the AR to make a call like this, they will only have to make eye contact for a decision.
Reckless and serious foul play by a defender in his penalty area occurring right in front of the lead AR may not be well observed by a referee over on the other side of the penalty area. The fact that the result of calling a foul will be a penalty kick should not deter the AR from flagging for an obvious foul even though the referee could not see it.
As an AR, I once had a defender reach under his armpit to punch an attacker in the chest. The defender, feeling pretty clever, was disappointed when I flagged for this foul. The punch was almost impossible for the referee to see. It was a surprise for me too but when I raised my flag and the referee consulted me, the subsequent penalty kick was a credit to fairness in the game.
Sometimes a goal is scored from a handball by a player over in the far side of the penalty area from the lead AR. There may be players blocking the lead AR's view. The referee's vision may also be blocked in a crowded penalty area. Defending players will be outraged and appealing for the handball and for the goal to be disallowed. Without any visual evidence of the handling the referee and lead AR may be left without help. What about the trail AR? Unlikely as it may seem the referee should at least check the trail AR. They may be fortunate enough to have a view through the crowd to provide an answer.
Empowering your AR's and asking for help in situations where you are blocked or find yourself in a disadvantaged position may help you find an answer to a critical decision that is the right one for the game.
---
Michigan Referee Committee
State Referee Administrator (SRA): Carlos Folino
State Referee Chairman (SRC): James Wheeler
State Youth Referee Administrator (SYRA): Ronald Grobbel
State Director of Referee Development (SDRD): Yuya Kiuchi
State Director of Assignors (SDoA): John Corbett
State Director of Futsal (SDF): Richard Gilbert
Manager of Performance Observation (mgr.observation): Tim Deters
Manager of Field Sessions (mgr.field): Jeff Dornseifer
Manager of Video Analysis (mgr.video): Nichole Kramer-Kiuchi
Manager of Pedagogy (mgr.pedagogy): Kalani Burghard
Email addresses are the title in parenthesis plus @michiganrefs.org
Please reach out to us!
If you have any referee-related stories to share or someone you think should be featured in this newsletter, please reach out to us at sdi@michiganrefs.org.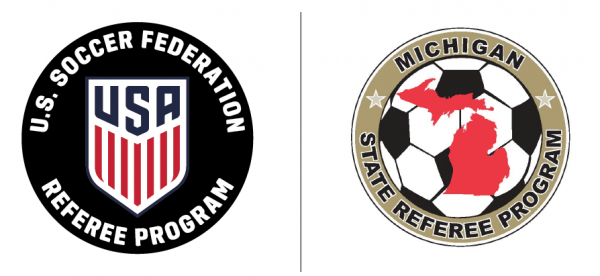 MRC announcements
If you know anyone who would like to become a referee, we offer numerous grassroots referee classes, as well. You can find relevant information here.
Contact one of us on the Michigan Referee Committee if you have any questions.