August Newsletter
Volume 1, Issue 7
August 1, 2020
---
Special Points of interest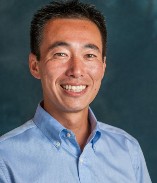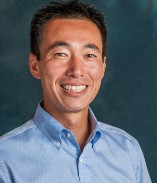 Welcome to the August issue of the MRC newsletter. We hope all of you and your family and friends are staying safe.
Last month, we announced we started our Twitter account (@MichiganReferee). Thank you for those who have already followed us. In the past few weeks alone, we had shared some "behind the scenes" stories. The MRC members generally have meetings—face-to-face or virtually—a few times a week. They also have meetings with other states in the region or with U.S. Soccer. On Twitter, you can learn what is being discussed in these meetings and what MRC committee members have been up to. You can also hear about various training opportunities given to its referees and mentors. From time to time, you will see sneak previews of what is to come in our educational resources, including interviews.
As always, our August newsletter is full of exciting stories and information. We will start with Dr. Katy Nesbitt's interview. She spent two years in Ann Arbor, MI, so some of you may know her. She is currently a FIFA assistant referee. She officiated at the Women's World Cup in France, in 2019. Most recently she has been officiating at the MLS is Back Tournament in Orlando, FL.
We also have two additional interviews with our top referees in the state. The first is with Jason White, PRO assistant referee. We were able to talk to him while he was in the "bubble" in Orlando, FL, for the MLS is Back Tournament. In the interview, he explains how he first learned that he would be officiating in FL, what his day looks like, how he balances his regular job and his MLS responsibilities, etc. The second interview is with Nick Balcer, a National Assistant Referee and PRO II assistant referee. For Tips of the Month, Nick explains the concept of "insist versus assist." It is a concept taught in a grassroots course. But he elaborates on the art of the concept using one of his game clips.
Our weekly video library continues to expand. These videos are only two to three minutes in length. You can watch them on your phone. In July, we have added five more videos. These videos discussed mode of contact, offside: interfere with an opponent, wait and see, head injury, and fair challenge. The first video of August will address simulation. You can find these videos on our YouTube Channel.
Michigan Referees Beyond Michigan: Katy Nesbitt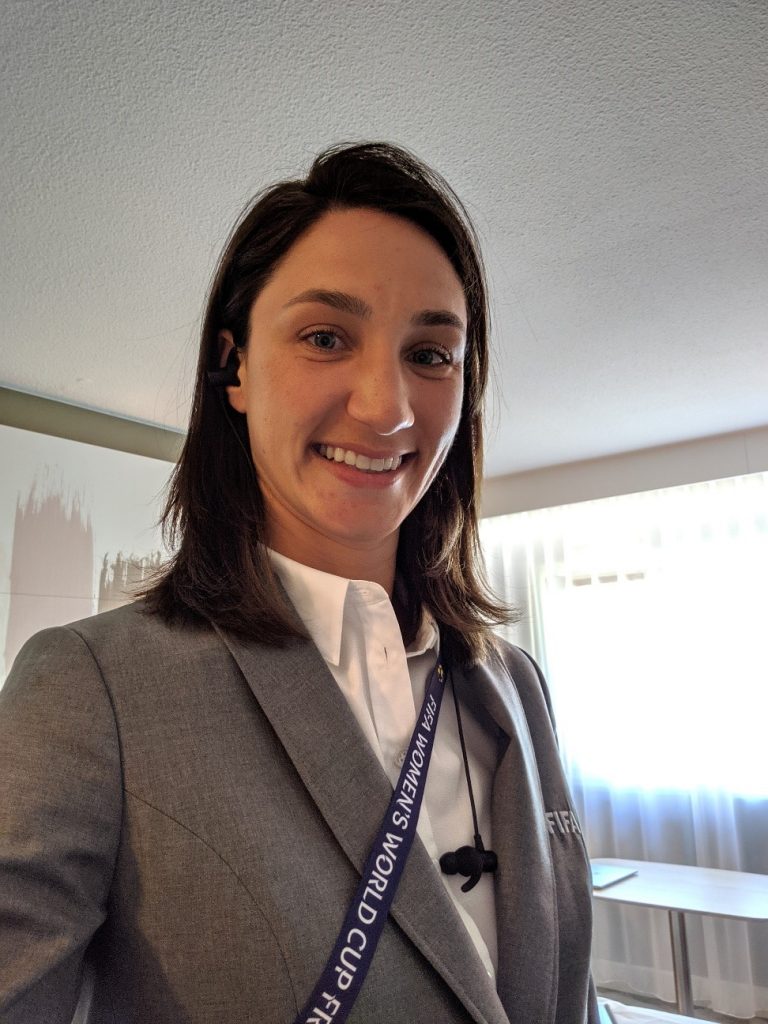 For the August newsletter, we had the honor to interview Dr. Katy Nesbitt. She is a FIFA Assistant Referee and has participated in the 2019 Women's World Cup in France.
What is your relationship to Michigan? How long did you live in MI?
I moved to Michigan for a post-doctoral fellowship at the University of Michigan. I lived in Ann Arbor for 2 years. I started working in MLS and got my FIFA badge during those two years, so these years came with some great career memories.
What do you miss the most about MI?
Michigan was such a beautiful place to live. There was a colorful sunset almost every night and the changing of the seasons was incredible. It was a unique place to spend 2 years and I'm happy that I had the opportunity. I could also really go for a Zingerman's sandwich right now!
Do you have any referee or soccer-related memories from MI?
What really stood out to me about the referee community in MI is how welcoming and supportive everyone was. I knew I would only be in MI for a short time but many great people reached out when I arrived and helped me out if I ever needed anything. I lived close to the UofM soccer stadium, so it was always nice to stop by after a game and catch up with some of the referees.
What are your current referee-related responsibilities/roles/appointments like?
Currently I'm a FIFA Assistant Referee. I work as an AR in MLS and work international appointments through CONCACAF and FIFA. I've refereed CONCACAF, Olympic, and World Cup qualifications and have been to U17 and U20 Women's World Cups, as well as the 2019 Women's World Cup in France.
What is the best memory of your referee career so far?
My best memory by far is the Women's World Cup, more specifically my first world cup match. This was something I had worked my whole career for and such an incredible experience to be a part of. The soccer, the passion, the friendships, are memories that will last forever.
What are a few things that you learned early in your referee career that continue to be important today?
Some of the most important things I learned early on that I still rely on today:
1. Teamwork
2. Preparation
3. Finding a way to enjoy every part of the journey
What are a few of the things that helped you become a successful referee?
I attribute my success to a few things personally, like my dedication, preparation, fitness, and coachability. These are all things I can control myself and consistently work on. I also recognize that many referees and mentors have had a huge influence on my career along the way and that the referee community is what pushes us to be better and is also there for us when we have a bad game.
What advice do you have for young aspiring referees?
It's important to have confidence in yourself on the field and the best way to achieve this is to be as prepared as possible for each game. Take each match seriously and be ready physically and mentally. Hold yourself accountable and be honest with yourself after each match.
Thank you, Katy.
Thank you.
Special Interview with Jason White

Jason White, PRO Assistant Referee, has been in Orlando, FL, for about a month to participate in the MLS is Back Tournament. Do you know what it is like to be a part of the referee group during this unprecedented time? Do you know what a referee's typical day looks like? Jason kindly agreed to be interviewed for this newsletter. Watch his video here.
Zoom Chat with Erich Shrewsbury
Do you know Erich Shrewbury? He is one of the most prolific assignors in the state and was also a contributor to our inaugural newsletter. He is now hosting a regular Zoom call with referees. Erich recognizes that many referees are missing being on the field. He has already had a few sessions already. In mid-July, he invited Chico Villarruel to talk about how to officiate at a higher level, including the ENCL, National League, and even college. At 7:30pm on August 12, Yuya Kiuchi, the State Director of Instruction and a National Referee Coach, will be joining the call to talk about handling. Please watch out for an email from Erich about details.
Referee of the Month: Kristy Bos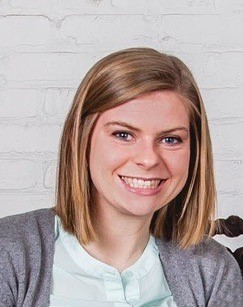 I started playing AYSO soccer when I was 4 and then transitioned to club soccer at the age of 8. I played for various Grand Rapids area teams from the age of 8 to 18. I played one year of colligate soccer at Lake Michigan College, but then decided to transfer schools and focus on my education. I still play soccer to this day through a couple of local recreational leagues.
When I was 12 years old, my mom told me to I either needed to start babysitting or find something else to make some money. I had been playing soccer most of my life at that point, so she suggested I try refereeing and signed me up for my very first entry level class. Through middle school and high school I saw refereeing as a good opportunity to make some extra money. Once I got into college, I realized there was a lot more to refereeing than just the money. I began to take refereeing more seriously and attending more out of state events. My current goal with refereeing is to earn my Regional Referee badge.
I love refereeing because it keeps me close to my favorite sport, but hands down the best part of refereeing is the relationships I have developed along the way. Refereeing has brought so many wonderful people in my life that I am extremely thankful for. I have friends and mentors all across Michigan and the U.S. that I have met over the past ten years. I would have never met some of my absolute best friends if it weren't for refereeing. Being on the field reffing a great game is one of the best feelings but all of the people I've met along the way is something I'll cherish for the rest of my life.
One of my best memories is the night that I was selected as a center referee for my first State Cup final game, I'll always remember how proud of myself I felt that night. Another great memory was the day I received a phone call from Chico inviting me to my very first Midwest Regionals event, I don't think I've been more excited in my life. I also have a lot of great memories from the different State Cup weekends, Midwest Regional events and the Women's Academy at the Needham Memorial Day tournament in Boston.
When I'm not on the field, I like to spend time with my friends and family.
Mentor Development Meeting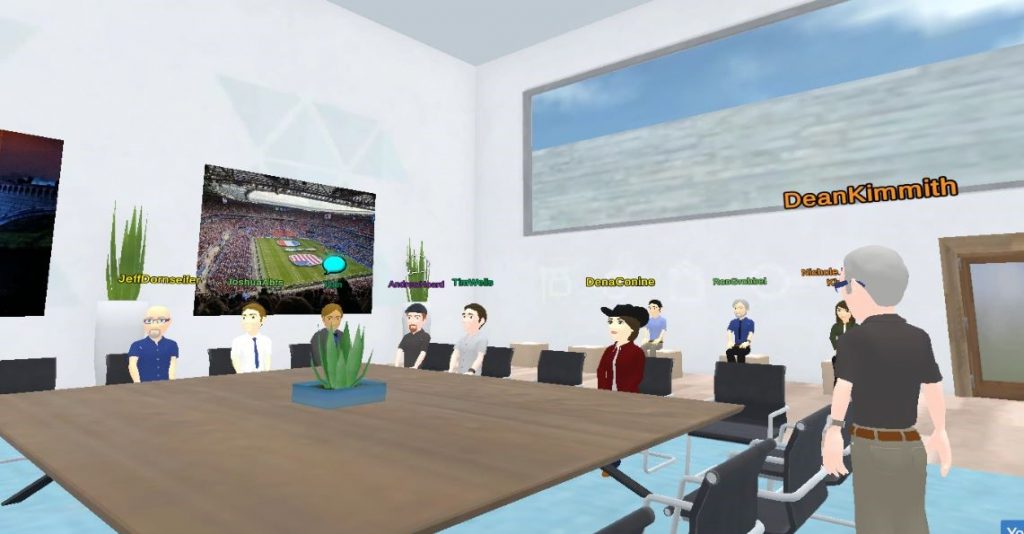 On July 15, 2 groups of referee mentors gathered on VirBELA for the third mentor development training session. Consisting of about 10 mentors, each group spent an hour to improve their mentoring skills.
Group 1 was tasked to watch 2 video clips to discuss how to provide an effective post-match debrief. The first clip was from a Girl's State Cup match a few years ago and the other from an NPSL game in Detroit last year. Mentors were split into two groups to analyze what happened in each clip, discuss what the referee crew did well, how they could have done better, and how to provide useful feedback. Oftentimes mentors can easily become "mistake finders." But our responsibility as mentors is different. We offer tips so that referees can think on their own and figure out various options that they could have taken. This inductive teaching method is more difficult than it sounds. But the approach is far more effective in developing better referees than a mentor simply giving a lecture on what the referee did well or not.
Group 2 focused on tactical fouls, namely SPA (stopping a promising attack) and DOGSO (denial of an obvious goal scoring opportunity) in the context of teaching grassroots referees. Rather than analyzing video clips to discuss if a situation in the clip warranted a card, mentors discussed how to effectively teach tactical fouls to grassroots referees. Participating mentors agreed that reviewing what these two types of offences meant was the first step. They also agreed that because clips from professional and international matches tend to provide a view of the overall field of play and give a better sense of where 22 players are, mentors should use these clips to show what a tactical foul looks like. After that, they may use local youth clips so that referees can see what such an offence looks like on their games. Moderators of the session also underscored that a caution for a SPA or a send-off for a DOGSO could not be managed. These cards, when such offences happen, must be given.
If you are interested in watching the summary of each session, you can find the Group 1 discussion here, and the Group 2 discussion here.
Assessing the Severity of an Offense: Part 2 (Point of Contact)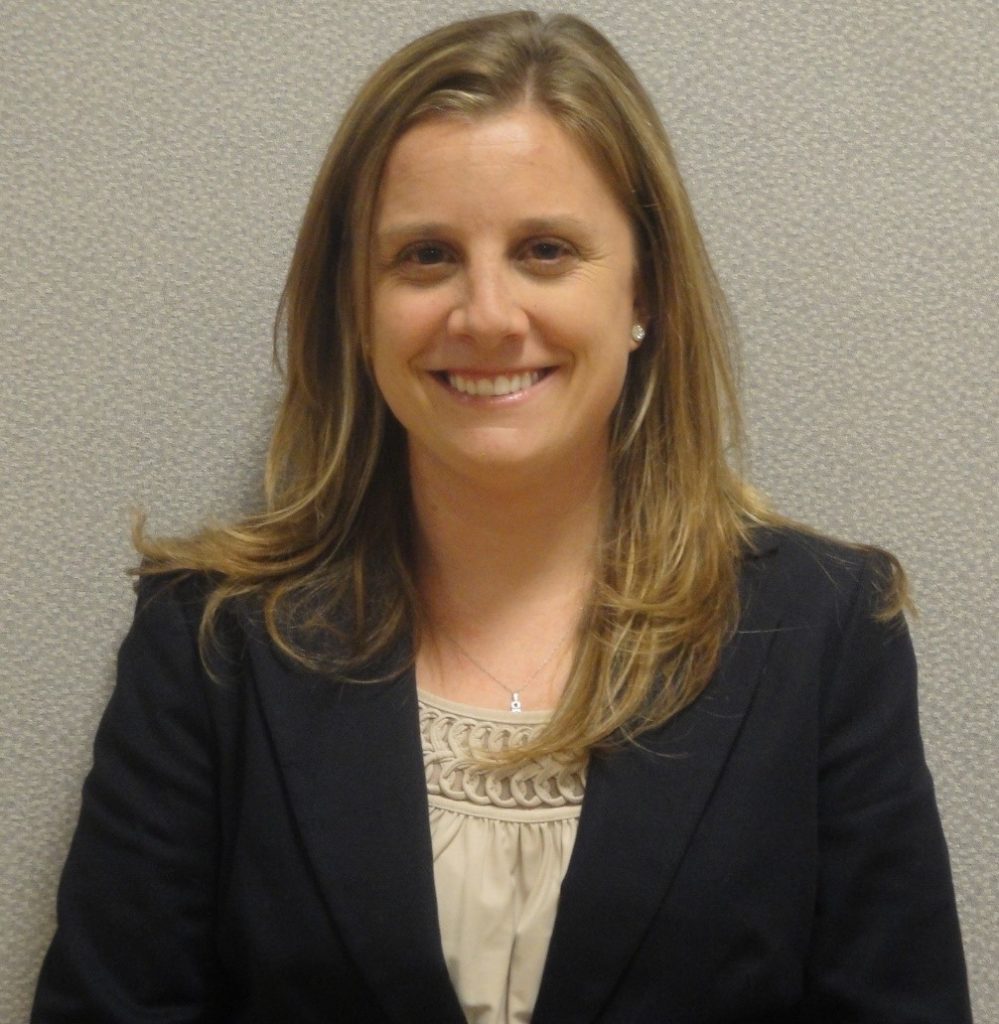 In the July newsletter, we introduced the concepts of offenses in a game and how we will use four considerations to determine whether an offense will be punished as a foul, foul and yellow card, or foul and red card.
The first consideration is the point of contact of the perpetrator & point of contact of the victim. Here are a few questions for us to think about:
For the player who initiates contact, what part of her body touches her opponent?
For the player who receives the contact, what part of her body is touched by her opponent?
If the contact is to a players' leg, is it low on the foot or ankle? Or is it higher to the shin, knee, or thigh? Generally, the higher the contact the greater the severity.
If the contact is to a players' upper body, is it lower on the shoulder? Or is it higher to the neck or head? Again, generally, the higher the contact the greater the severity.
| | | |
| --- | --- | --- |
| Foul | Foul + Yellow | Foul + Red |
| Low Severity | Medium Severity | High Severity |
| Contact is generally lower on a player's body | Contact is generally lower on a player's leg or torso/shoulders | Contact is generally higher on a player's leg or head/neck |
Foul OR Foul + Yellow
Leg contact to the foot or shin will generally be low or medium severity. Arm contact to the back or shoulder will generally be low or medium severity. THINK: possible foul or yellow card.
Foul + Yellow OR Foul + Red
Contact higher to the thigh or groin will generally be medium or high severity. Contact higher to the neck or head will generally be medium or high severity. THINK: possible yellow or red card.
Let's practice reviewing this information. Please watch the following two videos.
VIDEO #1: Click here to watch.
VIDEO #2: Click here to watch.
After watching both plays, please complete this brief quiz. The appropriate answers and play decisions will be reviewed in next month's newsletter.
Who's Who in Michigan: Bruce E. Falberg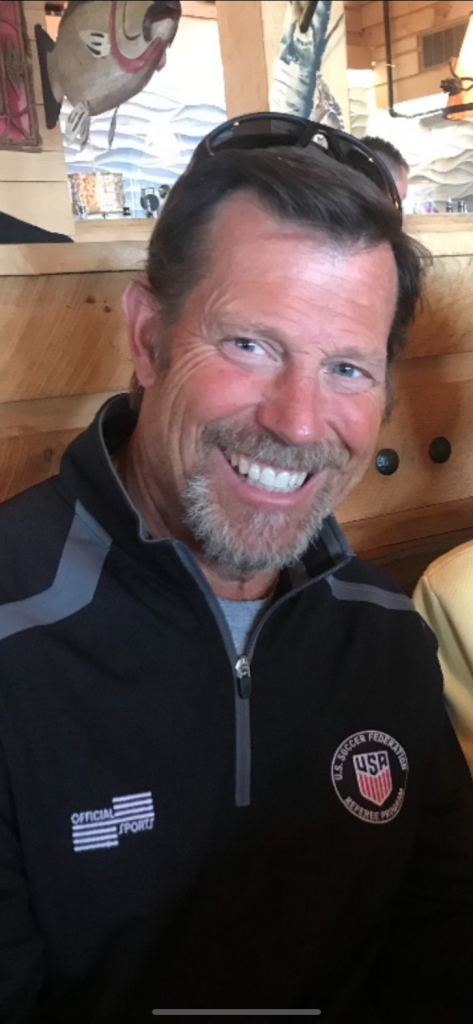 Hello all from the beautiful northern Michigan vacation land of Traverse City. My love of the soccer started way back in the late 1960s & early 1970s when I played high school soccer at Birmingham Groves, one of the few schools that offered soccer as a varsity sport. I remember that, for some reason, I always made a point to visit with the referees who worked our games. Back then, most of the officials came from Windsor, Ontario. They were always very polite, properly dressed and had a very helpful attitude. I guess you can say that those officials planted the seed for my own interest in being a referee at an early age.
In the late 1970s I moved to Traverse City and found myself coaching soccer at Traverse City High School. At that time, the MHSAA asked coaches to also register as referees to help out whenever possible. I remembered my own high school experience and those polite, well dresses referees, and I knew that the budding soccer community up north also needed someone to set that kind of example. It wasn't long before I was carrying a whistle, wearing black shorts, black socks with the white cuff, and the black referee shirt with the white collar. The rest is history.
As I began refereeing high school soccer, I also took the clinics to certify as a USSF referee. The more I refereed the more I began watching and studying the skills, styles, and methods of my fellow referees. I also dug deeper into the law book to build my knowledge of the game. I came to understand that it was easy to become a referee, but to be a good referee I would need to work hard and gain experience. With that mindset, it wasn't long before more and more of my fellow referee peers noticed my style, and began to seek me out to help them improve.
At a recertification clinic, one of my instructors, Tony Buckett, noticed my law book and saw how I had highlighted and underlined various passages, and drawn little yellow and red cards in certain places. Tony pulled me aside and told me that I needed to be an instructor, noting that "you're almost as excessive compulsive as I am".
My first instructor class was taught by Jerry Potter and Pete Morrissey. That class taught me so much and not only made me an instructor, it also made me a better referee. Before I knew it, Gerry Ouellette invited me to attend one of his assessor clinics. The first day was very intimidating and strict for the six of us in the class. The first thing Gerry did was give us the USSF national referee test. Wow, I was not ready for that! The second day, the new information began to sink in and to this day I look back at my notes from that assessor class. Gerry turned out to be just the mentor I needed. His style – and his voice – was tough, but he made me study harder to help be a better assessor for our Michigan referees.
Not only has my experience as an instructor and assessor made me a better referee, but my love and passion for the game of soccer has helped me help other experienced and newer referees continue to improve their games. I very much enjoy working with referees in any capacity and have hopefully influenced some of them in the same positive ways that Tony Buckett, Tony DeRoo, Jerry Potter, Pete Morrissey, and Gerry Ouellette have influenced me.
Even after all these years, I know the importance of continuous learning and improvement. So now that the Michigan Referee Committee has asked me to be the District Director of Referee Development for Northern Michigan, I am looking forward to being part of the next phase USSF is heading. I am most excited about spending more time with officials training on the field, and helping other referee mentor/coaches get involved. It has been an honor to be involved in the big growth of soccer in Michigan for all these years, and I look forward to many more great years on the field to come.
Tip of the Month: Assist vs. Insist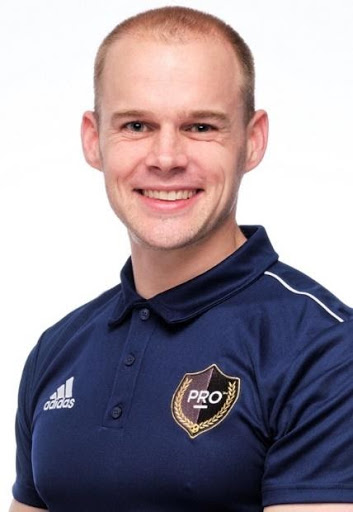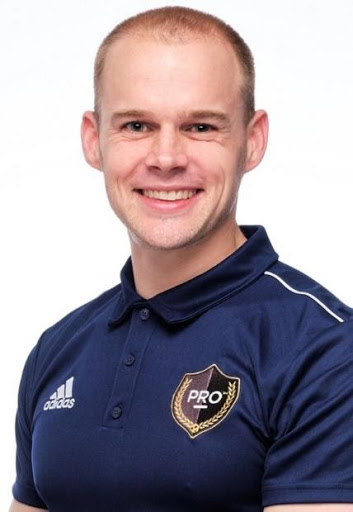 As the name suggests, assistant referees are supposed to assist the referee. But there are times when they have to insist. For example, what would you do if you are the only one in your referee crew that saw a violent conduct? Do you raise your flag and stop the game? What would you do if you disagree with the referee in the middle about a throw-in call? Do you call the referee over and discuss? This month, our Tip of the Month took place as an online interview. In the interview, Nick starts with discussing the concept of insist vs. assist. After that he explains how he judges when to insist and when to assist. He kindly shared an example from a match where he, as an assistant referee, had to insist because while he saw a red card offence, the referee in the middle did not. Check out the interview here.
Referee Goof Ups: How to Clean the Mud off of Your Face and Get on with the Game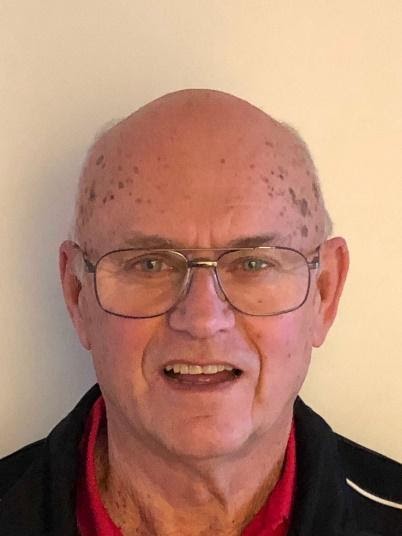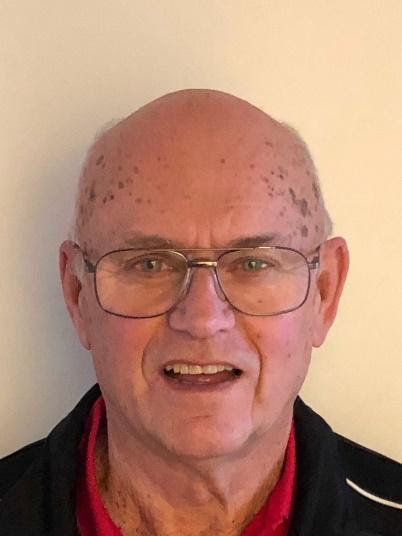 Refereeing is a job full of decisions. During a game you make a multitude of calls. Hopefully they will all be correct!
But guess what? You're human, and occasionally you're going to goof up and point the wrong way, blow the whistle when you shouldn't, miss a flag or make an error when issuing a caution or send off. The Laws of the Game allow the referee to correct a mistake as long as play has not been restarted. It's OK to own up to a mistake. Admitting a mistake to the players and/or coaches demonstrates that you are human and that you know what you did. How soon you correct yourself and how often affect the trust the teams and coaches have in your officiating.
Here are some of the common screw-ups referees make and how to handle them.
Pointing the wrong way on a throw in: You should correct your call as soon as possible, point the right way, and verbalize your mistake so players in the vicinity know what is going on.
Apologize. "Sorry guys, I pointed the wrong way. It's a red throw in." If you catch your mistake before the wrong team picks up the ball, the error won't seem as bad as when the wrong team's player has the ball in their hands. If this has already happened you might address your apology directly to them. Sometimes the teams realize you goofed up and are waiting for you to change your call and own up to your mistake. If you correct a call, players appreciate it. Redouble your efforts and concentrate harder.
Pointing the wrong way for a foul: Other than correcting your mistake, there is another pitfall for this situation you must absolutely avoid. Once you correct the direction of your hand signal, one team may still be backed off to defend. An opportunistic player who sees you change your signal will take a quick free kick towards the loosely defended direction. You really have created a problem now, unless you step in and hold up the kick until both teams have had a chance to adjust to the new direction. If you let the quick kick proceed in the new direction when the teams haven't had time to readjust, you are going to have some players who are going to be very angry with you. They may commit a subsequent misconduct to show their frustration and will force you into cautioning them or sending them off. Ask yourself who really contributed to this? Be forewarned, this can be a serious situation if not handled properly. Own up to your mistake; get the teams adjusted in the correct direction for the kick, holding up the kick until they are ready.
Referee mistakenly blows the whistle when there is no foul or the ball is not out of play: You just whistled the ball out of play. You cannot yell "Keep playing" because some players will stop and some will not. This could cause a serious unfairness in tactical play right afterwards. Stop play and hold a dropped ball. Depending on exactly what the situation was when you mistakenly blew the whistle, be ready to verbalize an apology and state what you are going to do next so everyone is ready. With the recent law change, there are no contested dropped balls, so you must drop the ball in front of a player from the team that last had possession, or to the GK if the ball was last touched inside the penalty area or if the ball was inside the penalty area.
Missed flags: There are two common missed flag situations: one for offside and the other for the ball out of play. Hopefully the AR whose flag you missed will know when to stand with the flag up until you recognize it and when they can lower the flag and regain position.
Offside: If the flag is up for offside and you do not recognize it, shame on you! If play continues and you give a late whistle you need to go back to the offside call placing the ball according to your AR's signal. If the ball is in the net after your AR flags for offside you need to disallow the goal and restart with the prescribed indirect free kick. If the offside flag and the goal are in quick succession and you quickly disallow the goal, your immediate decision will bolster confidence in your authority. The longer it takes for you to realize the offside the more confidence will erode in your officiating. Make sure you keep the lead AR in your field of view as soon as a team gets possession and commences an attack. If the attacking team's defense has pulled up to the half line and the ball changes possession suddenly, an offside infraction may occur on the first pass. The AR on this end will have their flag up immediately and the referee needs to acknowledge the flag before the attacking team has moved further up the field. The referee's late whistle will only frustrate the newly attacking team.
Missed flag for ball out of play: A ball off the field over the goal line or touchline and signaled by an AR represents a fact that cannot be covered up when this flag is missed. You must go back and perform the restart associated with this fact (Goal Kick, Corner kick, Goal, Throw in). Missing this flag, especially when the ball has crossed the goal line inside the goal can have serious consequences.
If the ball crosses the touchline and the AR's flag is missed then the referee must go back and hold the throw in as soon as they recognize their mistake. The AR should maintain position with the flag up until the referee stops play. If the ball is kicked into the goal just after the missed flag for a throw in, the goal should be disallowed. This mistake is not going to be popular with the players at all.
If a goal is scored and the goalkeeper picks the ball up immediately and continues playing, the AR will have to signal for the goal. If a ball over the goal line is not recognized by the referee right away, the AR must get their flag up and keep it up until recognized. When the referee whistles the AR should sprint up the touchline to signal the goal and the referee should hold a kickoff.
If goal mechanics break down, a serious problem to the game has taken place. Goals fairly scored need to be awarded and goals scored illegally need to be disallowed. Effective mechanics and cooperation on the part of both the referee and the ARs will provide the right outcome.
It is understandable that every referee will make one of these mistakes during their career. Each referee needs to honestly evaluate the cause when they make one of the preceding mistakes, correct them quickly, and fairly during the match. Once the cause of the mistake is determined the referee should take action to prevent its reoccurrence.
These are the most common calls needing immediate correction. Mistakes in handling misconduct are another subject and should be handled in another discussion.
Fitness Tracking Community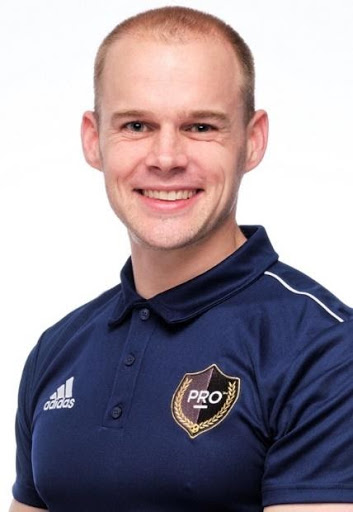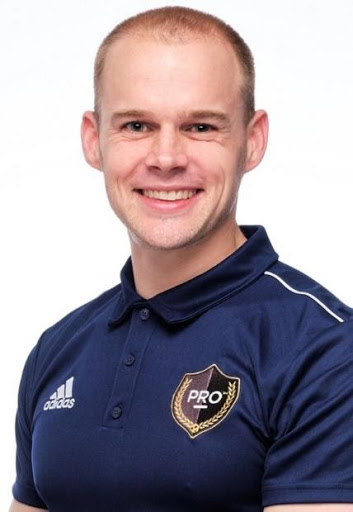 As we continue to find ways to improve our fitness and in the tracking of it, I wanted to create a space to share information and to view what our fellow officials are doing. A favorite tool of ours has become GPS watches and many of us have them. So I have created groups on Garmin Connect and Strava for fellow soccer referees.
Both of these groups allow us to share workouts/training plans, see our statistics from training and games, create challenges for each other, and much more.
For those who don't know what Strava is, it is a fitness tracking App/Website that syncs up with whatever GPS watch type you use (Garmin, Polar, Apple Watch, etc.) and allows users of different watch/fitness tracking brands to connect.
All you have to do is search for Michigan Soccer Referees on either Garmin Connect groups or on Strava Clubs and you will find us.
The URL to each is also listed below.
Strava community: https://www.strava.com/clubs/710329%5D
Garmin Community: https://connect.garmin.com/modern/group/3329881
Both websites/apps are free to join.
---
Michigan Referee Committee
State Referee Administrator (SRA): Carlos Folino
State Referee Chairman (SRC): James Wheeler
State Youth Referee Administrator (SYRA): Ronald Grobbel
State Director of Assessment (SDA): Dean Kimmith
State Director of Assignors (SDoA): John Corbett
State Director of Instruction (SDI): Yuya Kiuchi
State Director of Futsal (SDF): Richard Gilbert
Email addresses are the title in parenthesis plus @michiganrefs.org
Please reach out to us!
If you have any referee-related stories to share or someone you think should be featured in this newsletter, please reach out to us at sdi@michiganrefs.org.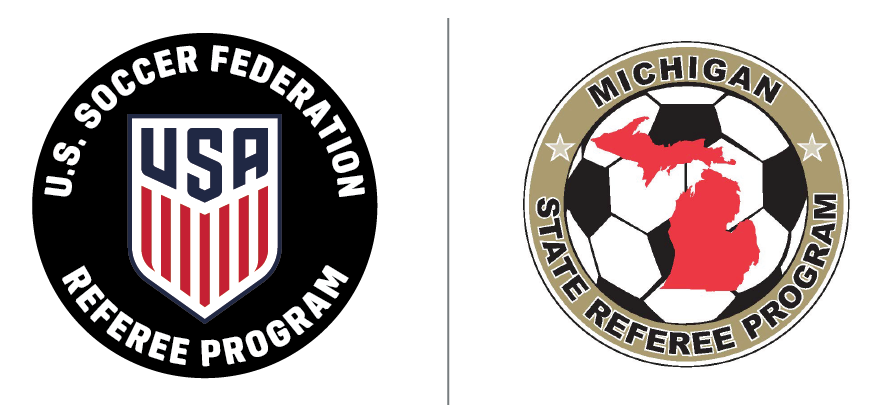 MRC announcements
Many of you have asked us about the 2020-2021 registration. We continue to be in touch with the U.S. Soccer about their latest development. We are still waiting for the finalized information about certification and recertification courses for both referees and mentors. As soon as we hear from them, we will determine what the process will look like in Michigan and announce it via email and other means.
As always, please check out the MRC website for the latest information on COVID-19 updates.