Volume 2, Issue 4
April 1, 2021
---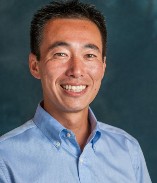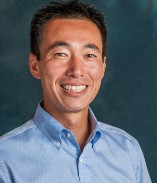 Welcome to the April issue of the MRC newsletter. We hope all of you and your family and friends are continuing to stay safe.
March 31 marked the end of the zoom referee recertification clinics. We will continue to offer two new referee classes a month via zoom. Since October, we have offered just over 120 referee certification and recertification classes via zoom. Each class had 2 mentors, totaling almost 250 mentor slots to fill. A total of 54 mentors taught these sessions. With 60 mentors (including the ones in the middle of the licensing process) in the state, 90% of mentors were involved in these classes. For many of them, teaching referees on zoom was complete new. We would like to thank these mentors to taking up on a new challenge.
Many of you might have read about the new Laws of the Game that will take into effect on July 1, 2021, internationally. I would like you to keep in mind a few things on this. First, most of the games in the state will continue to follow the 2020-2021 LOTG through this calendar year. Second, once we are in the next certification and recertification cycle starting July 1, 2021, we will start instructing on the new LOTG. By then, all the mentors will receive proper training so that they can share accurate information with referees. Additionally, those referees who will be working on a few leagues that will start using the new LOTG this fall will also receive training so that they are up to date with their knowledge.
As always, our April newsletter is full of exciting stories and information. We are featuring Mr. Brian Barrie as the former MRC member of the month. He was the State Director of Instruction in mid-2000s. Our regular content includes Referees of the Month and Who's Who. We are featuring Kalani Burghard as the Referees of the Month, and Shaun Soraghan for Who's Who. We were able to interview Courtney Dolan, a recipient of the Memorial Scholarship. Ken Wikle has an article about refereeing. You will also see the latest list of the District Directors of Referee Development, names of mentors who finished their licensing process in March, and a few pictures of Michigan referees at the National League showcase event in Greensboro, NC.
Beyond this newsletter, please be sure to follow our Twitter (@MichiganReferee) and subscribe to our YouTube Channel.
Michigan Referee Committee: Brian Barrie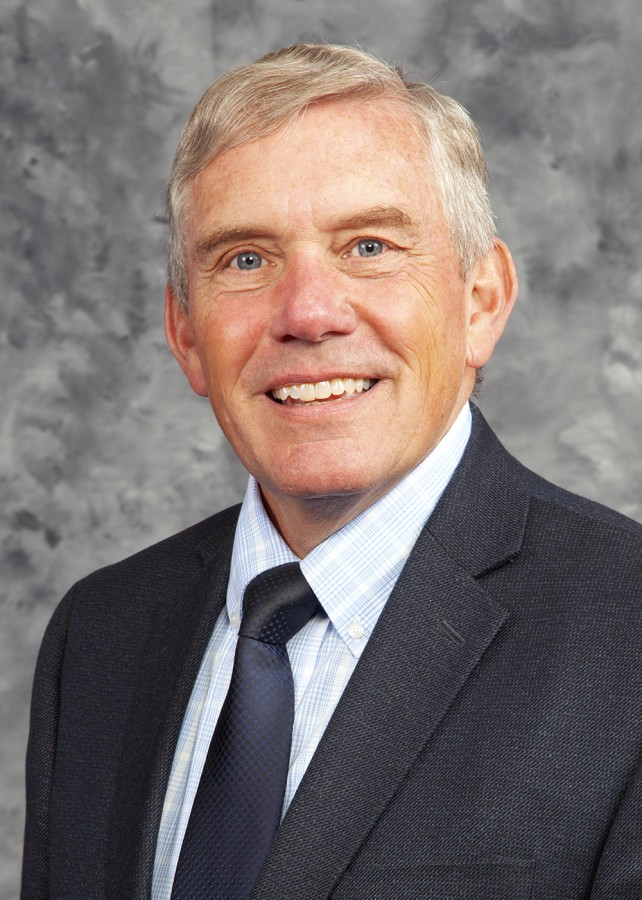 For the April newsletter, we also had an opportunity to interview Brian Barrie, a former State Director of Instruction.
When and how did you become the SDI of Michigan? How long were you the SDI?
I became an instructor in the mid-1980s and became the District Director of Instruction for the Flint area at that time. I was asked to serve as SDI when Marie Smith stepped down. Although I knew that I could never replace Marie, who was a quintessential educator, I agreed and served in the role for roughly five or six years.
How were you involved in Michigan soccer before you were the SDI?
I had served as a referee, an instructor, and an assessor for over 20 years at the time I became SDI. I coached some of my son's youth teams with little success. While I played in a few recreational, indoor, and adult leagues, anyone who witnessed my performance would agree that it was wholly underserving of mention.
What did you enjoy the most about being the SDI?
I enjoyed helping the state achieve meaningful improvement in the instruction of referees. We knew at the time that the instructional program largely "taught to the test" and that we were producing referees that could qualify for the badge but came through the clinics without knowing how to referee the game. The MRC worked collaboratively to begin taking advantage of efficiencies offered by online training so that precious classroom time could be better utilized. That type of progressive "outside-the-box" thinking was much needed.
Another thing that I liked about being SDI was meeting and working with referees across the state. I learned a lot from the varying perspectives that referees brought to the unique circumstances of their regions.
What is your referee background? When did you start refereeing?
I began refereeing in the spring of 1980. The prior year, my friend and former National Referee, Steve Olson, was officiating a recreational league game I was playing in. After the game, I was laughing with Steve that I probably deserved several cautions during the game but hadn't gotten any. He pulled out his set of cards and gave them to me. I decided to put the equipment to good use. My entry level referee class was taught by Gerhard Mengel. You could not study under Gerhard without gaining a deep love of the game and developing an appreciation for special challenges of officiating the game properly.
It seemed that once I got started it was truly impossible to quit. At the time, the game was growing at an incredible rate and referees were in big demand. Then soccer became a varsity sport for high schools and things really took off. Naturally, colleges, indoor, and the professional ranks followed suit. I tried to do as much of it as I could.
Do you still remain active in the refereeing world? If so, how?
Regrettably, I am no longer active in refereeing. About with chemotherapy in 2002 left me with necrotic bone in both knees. The starting and stopping done in officiating games became too painful. In addition, I am a firm believer that every individual has to know when to quit. We have all seen referees who continue to work games well beyond their "shelf life." In 2012, I figured it was time to step away. Perhaps not surprisingly, I now have dreams where I am still refereeing.
What is your best memory of being a referee?
Of course, a lot of memories stand out. I cannot think of a fellow referee without some story coming to mind. One of my favorite on-field memories was working the 2000 USL Championship game as AR1 with Carlos Folino. The match was understandably intense, and the skill level was impeccable. Despite the home team dropping a 1-0 decision, both teams agreed that Carlos had done a masterful job with the match. It was great to be part of the crew that night.
One of my favorite off-field memories stems from the old CISL that played at the Palace of Auburn Hills. Herb Silva was in town to handle the match and he was always fun to work with. After the officiating crew had completed our pregame inspection, we retired back to the officials' locker room to get ready for the match. Herb got telling war stories (and jokes) until there was a knock at the door. It was Palace security sent to get the officials. We had missed the warm-ups, the player introductions, and the National Anthem and the teams were ready to start the game. Oops.
What is your best memory of being the SDI?
The greatest memory that I will carry of being the SDI is my unfettered respect and admiration of the people who choose to become soccer referees. Being SDI gave me the opportunity to work with referees across the state. Though it might sound pretentious, soccer referees are the some of the greatest people I have had the pleasure to meet. As a group, they are generally likeable, hardworking, dependent, modest, and fun-loving. My tenure as SDI really brought that into focus for me.
What made refereeing exciting/fun for you?
I liked pretty much everything about refereeing games – the fresh air, the exercise, the comradery with my fellow officials, even the back and forth with players and coaches. What I found most rewarding was the positive impact I could have on a game, which made it more enjoyable for everyone involved. Keeping a hotly contested match under control is a challenge, and when done successfully, is highly rewarding. Similarly, recognizing a more "mundane" match and allowing it to proceed that way can be just as important. You are constantly being tested and the minute you become complacent, the game can make you pay.
Other than being the SDI, did you hold any other roles in the soccer world, including locally?
I was always very active in the organization and operation of the Flint-area soccer referee's association. At one time, the local associations played a critical role in the recruitment, education, and scheduling of referees.
Do you have any advice for aspiring referees?
As I sift through the advice I gave over the course of many years, I'd say three things stand out:
• Keep learning – One of the great challenges to officiating is there is always room for improvement. The game and the players are always evolving and so must the referees.
• Take pride in being a referee – It's a tough job that not everyone can do. Referees are often subject to a great deal of abuse from parents, players, and coaches. If you are properly prepared and you are giving adequate attention and effort, then you are a vital element to a successful match. Anything sort of that and you become an obstacle to everyone on the pitch.
• Be honest in your self-assessment. You usually don't need others to tell you when you've messed up. Make those learning opportunities. If you are not enjoying your time on the field or are only there for the game fee, it's time to start asking yourself some tough questions.
Thank you, Brian.
Thank you.
Myth of the Referee Affecting the Outcome of a Game
When you see a potential offence that could lead to a penalty kick on a tied game with a minute left, you know your decision is important. The penalty kick decision may result in the match with a team ahead of the other. We have seen some referees shying away from calling the foul. When asked why after the game, they would answer, "I did not want to affect the outcome of the game."
This is one of the common ideas that we must move away from. The player who committed the foul is responsible if their team loses because of the goal scored on the penalty kick. If the referee does not call the foul, then the referee actually affected the game. The inaction affected the match. A foul is a foul at the first minute of a game or at the eighty-ninth minute of a game. A foul is a foul in the midfield or in the penalty area. The level of confidence about your decision required to make a critical call may have to be higher, but the criteria for a foul does not change because of the time or location. Think of it this way. If someone is filming your match—and a lot of parents do film their kids' games and sometimes send MRC staff clips of referee decisions—and your decision became a 10-second video clip, can you stand by your decision? The clip has no context. It does not show the score, the time, or the temperature of the game. How confident are you with your decisions? With more affordable high quality cameras on everyone's fingertip, your calls on a local match may be under scrutiny that only happened at the highest level ten years ago.
Tournament Season is Here
It is April. This means that we are going to have numerous tournaments coming up. Erich Shrewsbury is one of the assignors in the state who works for many of the tournaments across the state. Here is a short message from Erich, "If you would like to do any tournament, please go into your game officials account and on the left-hand side click MY PREFERENCES, once that opens please click LEAGUE/TOURNAMENT PREFERENCES and you will see all the league/tournaments that you can sign up for. Find the one or multiples you are looking for and check that box. You can email me and I will confirm that you have signed up properly."
You can find the list of tournaments that Erich is assigning here.
His email address is: eshrews @ gmail.com.
Referee of the Month: Kalani Burghard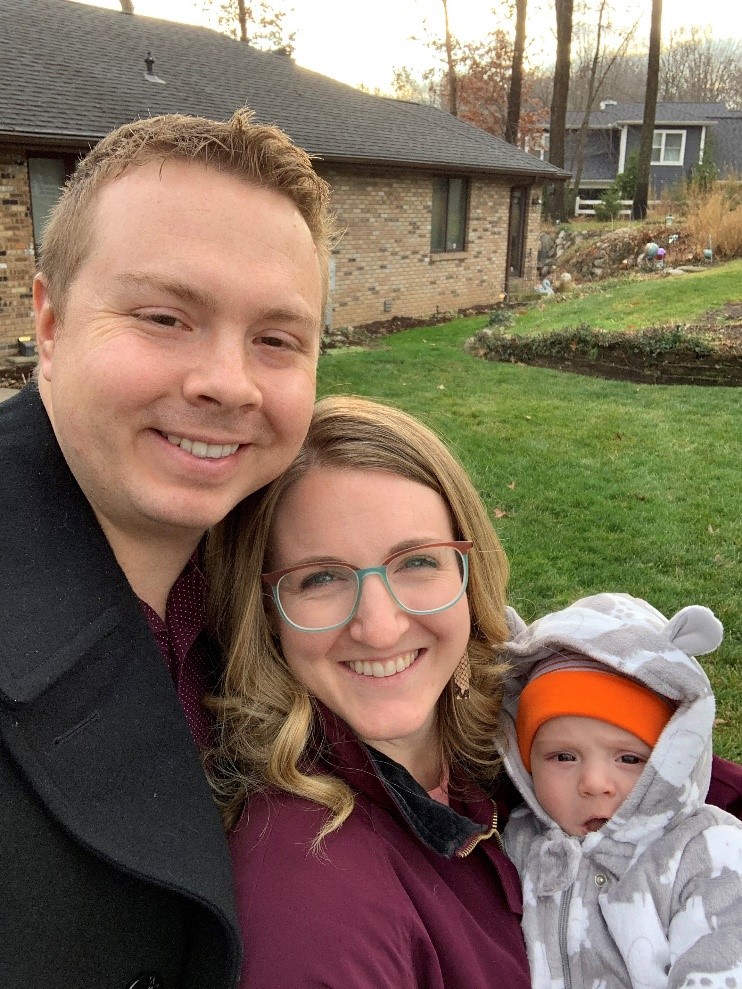 Although I didn't start as a USSF soccer referee until 2007, I started reffing AYSO soccer in 2005 when I was 12 years old. This started mainly because my dad knocked on my door one morning and told me to get dressed, because we were going to become soccer referees. My first years of reffing were marked by coaches and parents towering over me, but my dad was with me through all my games, and he stood quietly by as I handled irate members of the soccer community. This initial experience with reffing taught me my favorite part about it: that a tribe can make a girl strong, even if she is a girl in a heavily male dominated field. This lesson was essential as I moved through college and into my daytime career as a high school English teacher. It is a lesson that is hard to learn in a world that is resistant to change. Today, over fifteen years later, I cannot help but express to people that inquire about reffing the intangible reasons for joining the fray: the camaraderie, the support, and the tribe they will walk away with. My referee friends were with me through rough parent-teacher conferences, my wedding, and even the birth of my son this past year. Our community is something that spans not only the country, but the entire world. And, while my world is now more dominated by bottles and rattles now, I can't help but be grateful my dad dragged me out of bed one Saturday morning to become a soccer referee.
DDRDs for 2021
DDRDs for 2021
As we prepare for the 2021 season, here are the District Directors of Referee Development. They work closely with SRA, SYRA, SDRD, and three Managers, as well as local associations and other entities to help develop referees in their district. They are the ones that will coordinate field sessions, video analysis sessions, and performance observation opportunities at many of the tournaments, in consultation with tournament assignors.
If you are a referee and are looking for more opportunities to develop, please feel free to reach out to them. If you are interested in hosting any referee-related educational session, please feel free to reach out to your local DDRD.
Metro West: Rich Gilbert and Jeff Dornseifer
Metro East: Brandon Barlog and Alex Plum
Flint/Saginaw: Matt Krause and Stan Krajkowski
North: Bruce Falberg and Kevin Avery
Lansing/Jackson: Andrew Hoard
Kalamazoo: Jim DeBrabander and Bill Wilkinson
Grand Rapids: Kristy Bos and Bill Howard
Southwest: Simon Blackwell and Luis Aguirre-Rivera
Our New Mentors
Since March 1, the following mentors have finished their licensing process and have officially become U.S. Soccer Referee Mentor.
Josh Abts
Kevin Avery
Brad Barlog
Simon Blackwell
Conlan Campbell
Dena Conine
John Corbett
Andrew Hoard
Bill Howard
Jordan Howard
Andrew Johnson
Matt Keith
Christian Little
Jacob Little
Jenna Livingston
Todd McCoy
Octavian Petrescu
Stephanie Pickerel
Jerry Potter
Chris Rein
Shaun Soraghan
Tim Wells
Bill Wilkinson
Amy Willing
Mike Wint
Congratulations!
National League Showcase and Playoffs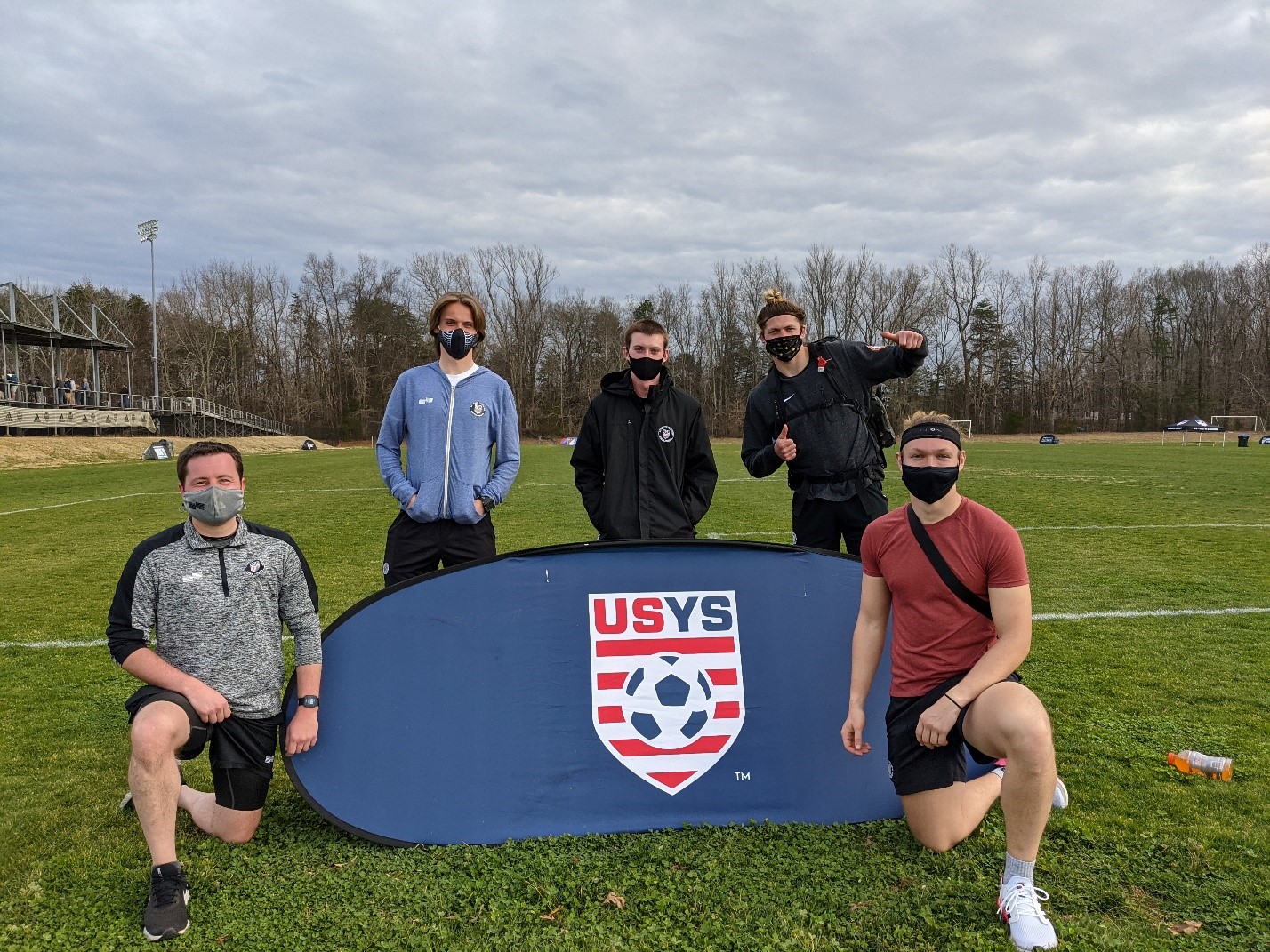 On March 12 to 14, US Youth Soccer hosted the National League Showcase and Playoffs in Greensboro, North Carolina. Five Michigan referees attended this event: Jared Brzezniak, Jamie Crosby, Jason Cross, Ryan Homik, and Jordan Howard. Additionally, there were three Michigan referee coaches that attended: Nichole Kramer-Kiuchi, Yuya Kiuchi, and Francisco (Chico) Villarruel. There were many other great referee coaches alongside our own, including FIFA referees Tori Penso and Ted Unkel.
This event had showcase and playoff games. The showcase games were at a level similar to that of competitive National League Conference (NLC) games. The playoff games were the highest level of games that US Youth Soccer has. The National League playoffs consists of two groups with four teams in each group per age group and gender. These teams play three games and the team that wins the group automatically earns a place at USYS Nationals, meaning that they do not need to win regionals. All of these playoff games are at a level similar to that of a regional final.
All of the Michigan referees had three games on each of the three days of the event. Most of the games had a mentor watch part of the game and additionally every game was recorded and made available to us after the event.
Off of the field, we tried to take advantage of the opportunity of being out of state by seeking out local restaurants and nature attractions. Although we did have to change our plans many times due to covid safety, we were able to go to a local waterfall and to an ice cream store that was owned by the same family for over 115 years.
Overall, the Michigan referees found this event to be very beneficial. We learned a lot from the referee coaches on the high-level games and had fun while doing so. If you are interested in attending a future National League event, check usyouthsoccer.org towards the end of 2021 to see the next events that will be held.
John Bieniewicz Scholarship Recipient Monthly Interview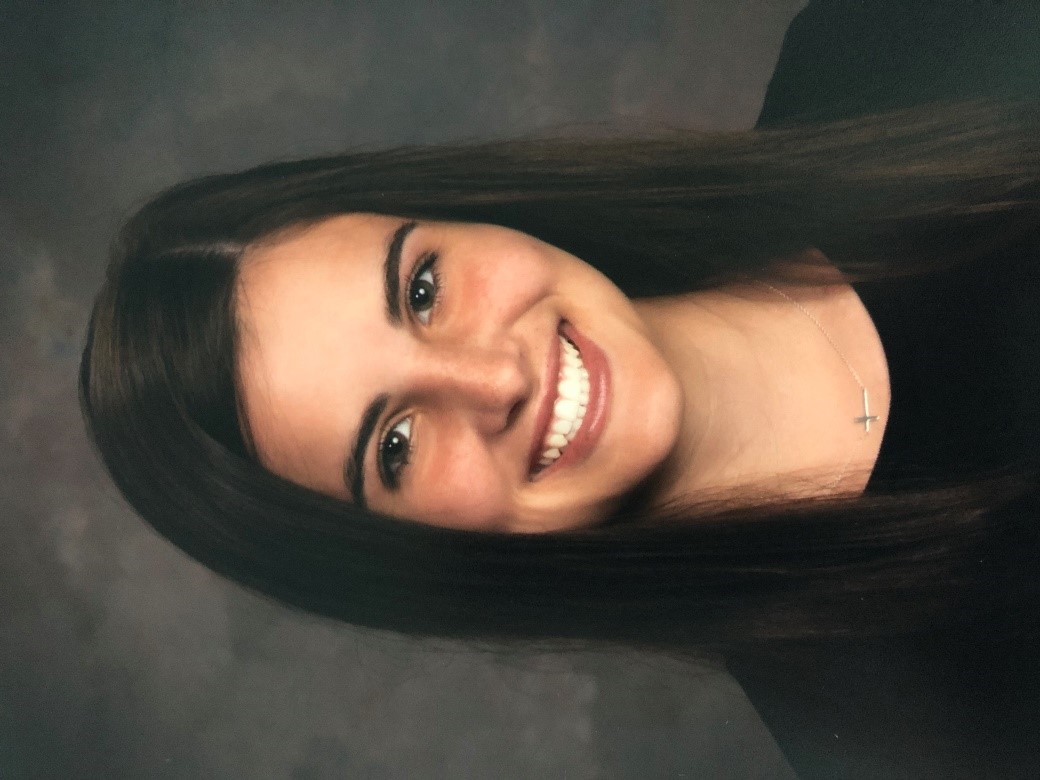 This month we will spotlight another previous John Bieniewicz Memorial Scholarship recipient. In the third interview of this series, we were fortunate enough to sit down with Courtney Dolan. Below is the transcription of the interview we conducted with Courtney.
What college/trade school did you attend?
Boston College.
What are you studying?
I am majoring in Political Science.
How has the scholarship benefitted you?
I have used this scholarship toward purchasing books and materials for all my classes at the beginning of each semester at Boston College.
How has John Bieniewicz's story impacted your life/decisions?
I remember first hearing about the story of Mr. Bieniewicz, and this event shocked me. Mr. Bieniewicz's passing certainly affected how I approached things on the soccer field as a referee; I worked toward diffusing arguments, even if I was in the right. Because I think learning to mediate conversation and diffuse tensions is an important skill to have, I take this mentality with me and apply it to other areas of my life as well—whether that be professionally or personally.
How are you carrying on John's legacy?
Overall, I continue to support referees across any sport, because I know what they are thinking and feeling, especially under scrutiny of everyone around them. I also have maintained my passion for the game, as I know that was such an important part of Mr. Bieniewicz's life.
What advice do you have to high schoolers or young referees?
Some advice I would have for high schoolers would be that they shouldn't expect everything to fall into place on its own. Sometimes, even though it's scary, we have to actively seek things for ourselves; things like opportunities, friends, and mentors don't fall into your lap. Be active as you move forward in school, as it will serve you well in all other aspects of life.
How did you become involved with the scholarship?
I became involved with this scholarship because, after first hearing about the story, my mom brought it to my attention. After reading more about what the scholarship represented and who Mr. Bieniewicz was, I decided to apply.
Thank you, Courtney.
Thank you.
John Bieniewicz was a long-time soccer referee who passed away on July 1, 2014 after being assaulted and sustaining a fatal injury while refereeing a soccer game. To all who knew him, John's passion for soccer was only surpassed by his love and devotion for his family. In John's memory and in conjunction with his family, The Michigan Referee Committee has established a scholarship fund for five high school seniors who share his passion for soccer. Attached below is information regarding the John Bieniewicz Golf Outing which helps fund the scholarships and the scholarship application for anyone who is interested in applying.
Reminder: The John Bieniewicz Memorial Golf Outing is August 7. Please see the above brochure if interested in participating or sponsoring the event.
Instagram: @jbieniewicz_scholarship Facebook: John Bieniewicz Memorial Scholarship
What is Your Call?
In the March newsletter, you were given a clip of a challenge and a possible disciplinary action. The survey asked you to identify if a foul existed, and if it did, by whom with possibly with what disciplinary action.
The March video was this.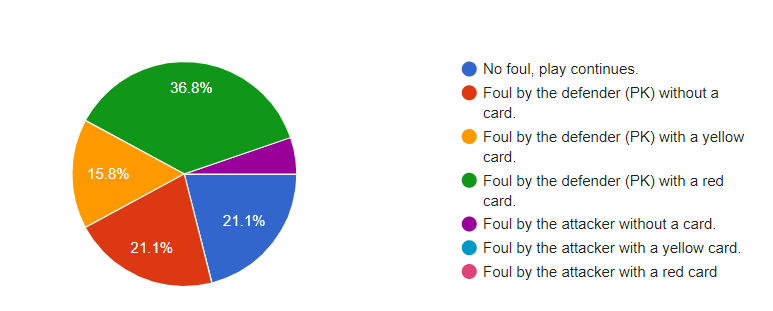 This month, we ended up with a big variation of responses. Out of 19 people who took the survey, 3 people (15.8%) had the correct answer. The correct answer is a foul by the defender, resulting in a penalty kick, with a yellow card given to the defender. In this video, as the ball moved toward the penalty spot, the defender (Red #23) challenges the attacker (White #24) without an attempt to play the ball. Without the foul, the attacker would have received the ball. Because the "likelihood of keeping or gaining control of the ball" criterion was not met, this was not a denial of an obvious goal scoring opportunity, even though the other criteria were met. As a result, this is a promising attack situation. Because the defender did not attempt to play the ball, the yellow card for SPA (stopping a promising attack) is not downgraded. Therefore, a yellow card must be shown to Red #23 for SPA. The game is restarted with a penalty kick for the white team.
For this month, we have selected another video on challenge and a possible disciplinary action. You can access the video here.
You can submit your answer here.
SmartWater Invitational Soccer Tournament
Tom Coatoam
Come join us for a great weekend of soccer at the 2021 SmartWater Invitational Soccer Tournament, April 30 – May 2.
All games will be played at Brighton Legacy Center or other venues within 10 minutes of Legacy, providing a great playing atmosphere for players and spectators alike. In past events, ages from U8 to U19 were all represented, and clubs from all over the state plus a few from outside Michigan and Canada have participated.
Referees are provided 3 meals a day and unlimited bottled drinks. Some games may have referee mentors present. Past events have needed over 200 referees, so reach out to us via email (mscref @ gmail.com) so we can add you to the event if you have any questions.
Referee Blooper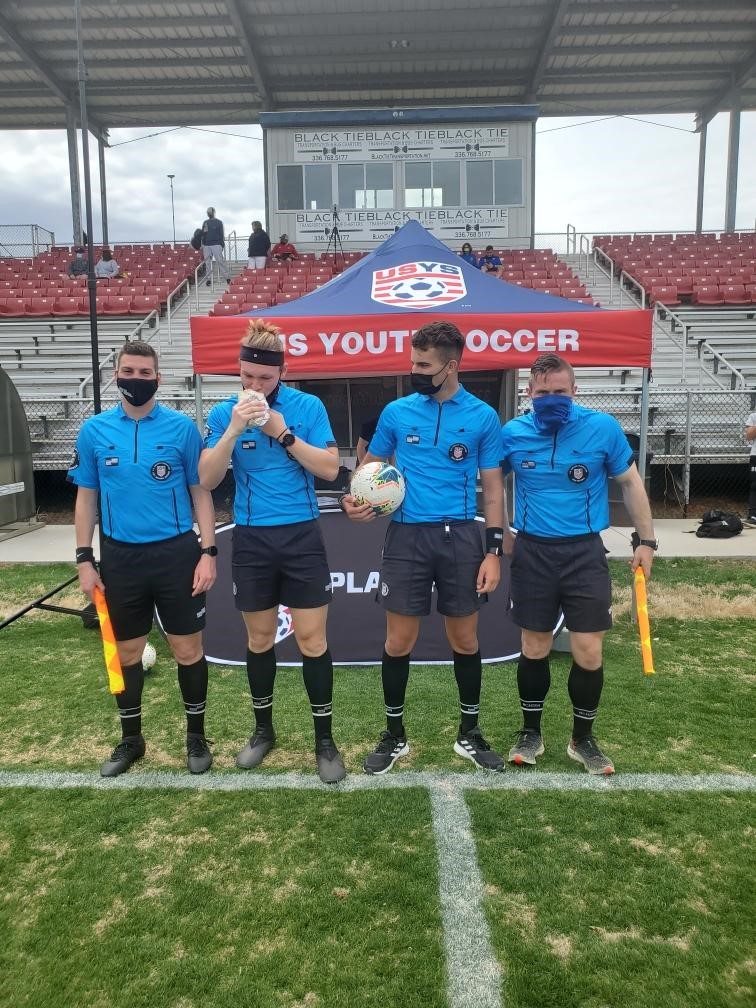 If you want to take a pre-match referee crew picture, we suggest you leave your burrito behind in the referee tent.
Tip of the Month: Personality and Referee Communication
Nicole Green
National Referee Candidate
What do Ed Hoculi, Teddy Valentine, and Mike Dean all have in common? They are arguably the most well-known referees of our time, infamous for their personalities and style of communication. Love them or hate them, each has a presence that is uniquely their own and commands the respect of the players and coaches during a game.
As referees, of course we need to enforce the laws of the game, call fouls, and give cards. But our style of communication and personality in how we do so may ultimately dictate whether or not we leave a game feeling like we had a successful match. Developing our social skills, the skills we use to communicate and interact with each other, both verbally and non-verbally, through gestures, body language and our personal appearance, should be an area that we all strive to improve.
There are many aspects to consider as we develop our referee communication style and personality on the field:
Hand gestures;
Facial expressions;
Whistle tones and lengths to convey emphasis;
Reading players' and coaches' body language;
Each person is an individual who deserves a different reaction;
What we see one referee do will not necessarily work for all;
Practice makes perfect and we're not going to know what works until we try;
Range of emotions and reactions;
"Selling a call" when it is a contentious decision;
Choosing your words wisely – what you say and how you say it; oftentimes, less is more.
We will continue to go further in depth with this topic in future newsletters. As you start doing games again, think about your field personality and communication style.
There are times when words may not be needed. In this moment, my facial and body expressions conveyed to the player that he had crossed a line.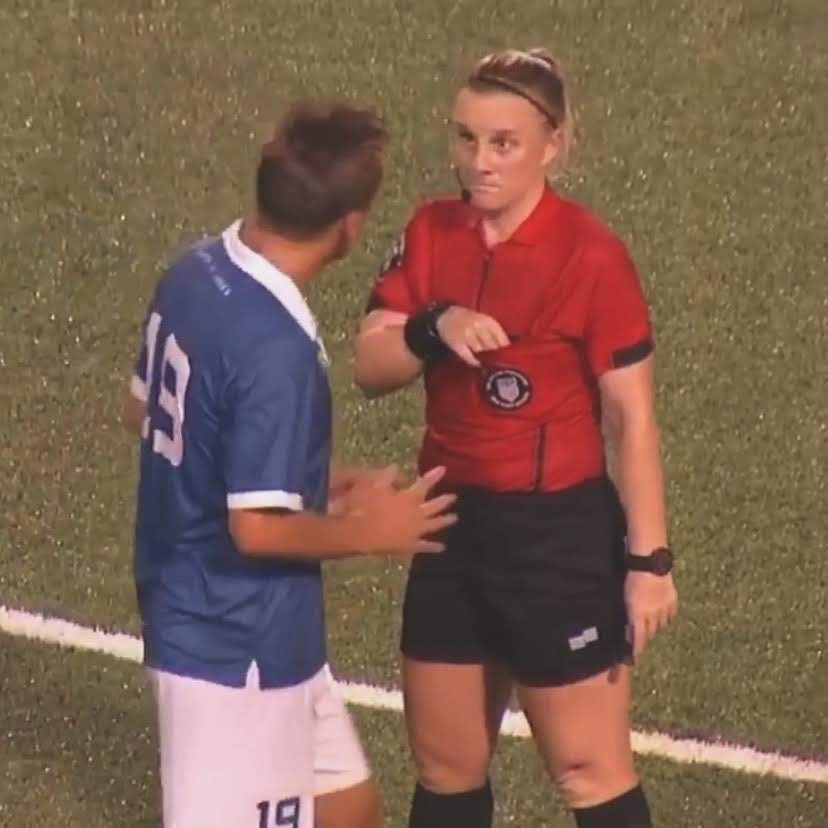 As he walked away, he continued to argue. I knew that there was no "winning" in this moment but wanted to find a way for him to remain on the field in the closing minutes of a very intense playoff match.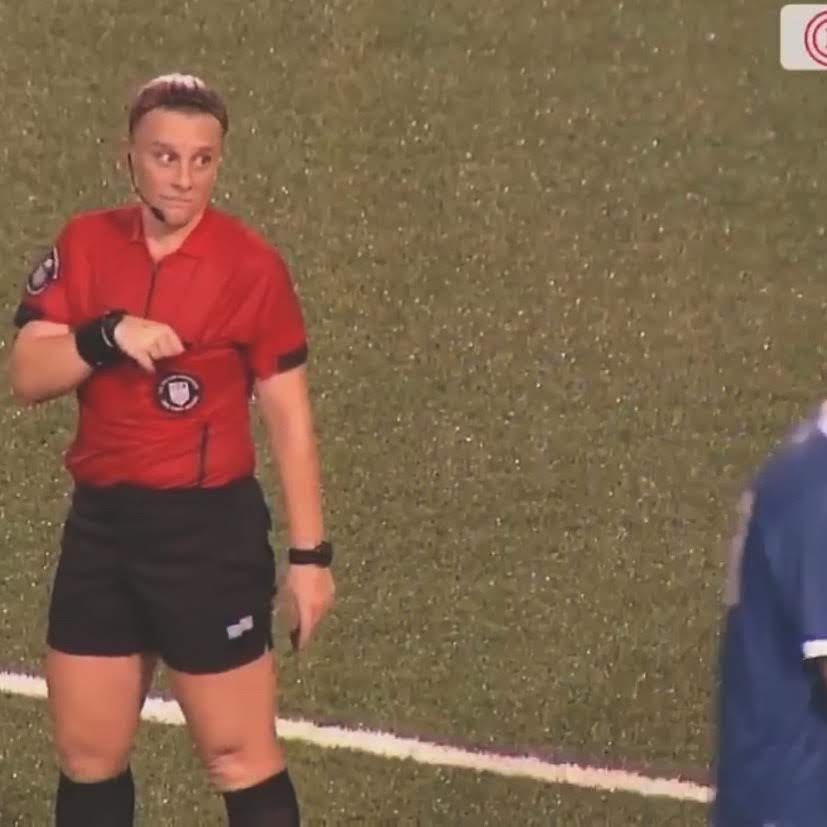 Who's Who in Michigan: Shaun Soraghan

I would like to start by saying "Thank You Very Much" to Yuya for including me in the April, 2021 edition of the Michigan Referee newsletter. I really appreciate it.
I have had a lot of good mentors that I would like to mention. Fawzi Noocha, Vic West, Ken Burcaw, Carlos Folino, Dale Brasseur, Armando Melchiorre, Jerry Potter, Ken Jorae, Steve Olson, and Tom Montroy were very helpful to my referee development and I am really grateful for their advice.
I started playing soccer during the spring of my senior year in high school. My brother started to play soccer in the previous fall and I thought it I would give it a try. I played goalkeeper for the Dearborn Heights Rangers in the Great Lakes Soccer League.
During the summer, the Dearborn Heights Soccer Club was looking for referees and I thought it would be fun and earn some spending money. So, I decided to sign up for an entry level referee class. Rodney Wood was my referee instructor. I was certified in August, 1981.
The thing that I liked about refereeing is that you can officiate games in different places and different leagues. Another thing that I like is that it is a great way to get exercise. It has motivated me to focus on my physical fitness and health.
In 1982, I registered to become an official for the Michigan High School Athletic Association (MHSAA).
In 1986, I joined the Michigan Intercollegiate Soccer Officials Association (MISOA). I also spent some time as Vice President and President for MISOA.
In 1987, I completed the requirements to become a State Referee.
In 1999, I completed the requirements to become a National Referee.
In 2006, I became an Emeritus Referee.
I am currently a USSF referee mentor.
Previously, I also have officiated indoor soccer in the following leagues (NPSL, CISL and MISL).
I have had a lot of good memories. Listed below are a few of them.
– Working my first game in the PDL (Now USL 2) as a referee in Kalamazoo in 1996.
– Working four games as an assistant referee for the PDL Championship in Kalamazoo in 1998. At that time, they played the 2 semifinals on the first day. On the second day, they played a consolation game and the championship game.
– Working my first game in the A League (Now USL 1) as an assistant referee in Cincinnati in 1999.
Regarding hobbies outside of soccer, when I have time, I try to work on projects around the house and educate myself on taxes, personal finance, and personal health.
The Art of Health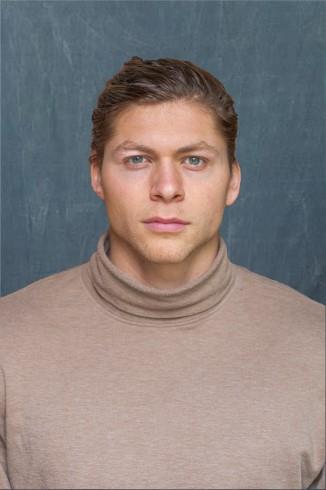 No matter what athletic stage you are at, as a referee you are an athlete. This is a mindset everybody should have. Being athletes, we need to train in ways that will help us move faster and more efficiently during games. I encourage you to reflect on your training to see where you can add some training that works on mobility and explosiveness. If you need any ideas on workouts or ways to alter your current routine, do not hesitate to reach out, homikrya @ msu.edu.
Here is the monthly video.
Spring Soccer Season is on the Way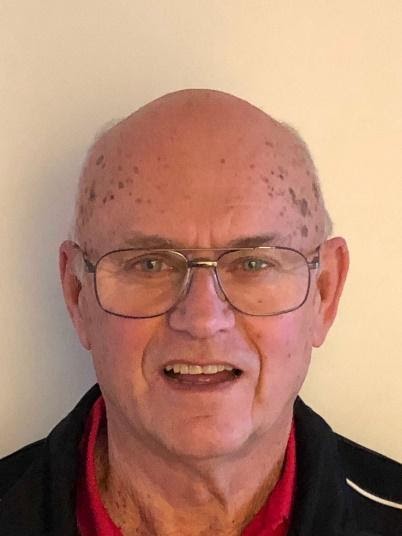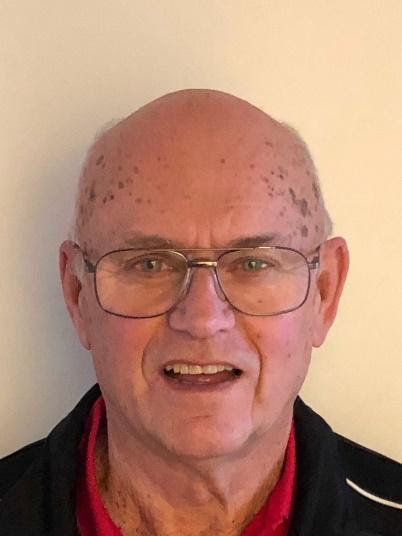 Spring is on the way!
Years ago, I heard the saying "In spring a young man's fantasy turns to … baseball." My Google search on this produced the original quote from Alfred Lloyd Tennyson that had nothing to do with baseball, however if you are reading this you can replace "baseball" with "soccer." I am sure after about of year of dealing with the pandemic and its effects, we are all anxious to get back out on the field again and referee some games. With the layoff, it would be good to spend some time and effort thinking about what is necessary to prepare to referee again. Here are my recommendations:
– Make sure you have recertified for 2021. Recertifying for 2021 is free. Check out the Michigan Referee website www.michiganrefs.org and click on Referees and then Recertification. Let the "Wizard" take you through the requirements to recertify for 2021.
– Once you have recertified, go into GameOfficials and enter you availability. With no availability entered you will not get offered any games. Assignors are receiving games already so don't be left out. Consult your own personal and school calendar to make sure your availability reflects times and dates you are really available.
– It's time to get in shape again. Many of the referees have not worked for months and may be out of shape. Get to the gym or on your treadmill and put in some miles! Whatever you do, get your fitness level up to where it needs to be to keep up with play.
– In addition to recertifying, there have been many Law changes over last two years and new interpretations, especially for handball. You need to understand and be able to apply these in a game situation to be in step with the current Laws of the Game. There are new rules affecting dropped balls and the wall on free kicks too. You can find PowerPoint slides covering the latest changes and interpretations on the Michigan Referee website in the Referee Mentor/Coach tab. These resources are available to anyone who would like to view them or download them.
– If you haven't done so already, download the IFAB App on the Laws of the game and changes on your smartphone. This is a great guide on the LOTG which you can take anywhere you go for reference. It is easy to use and is up to date with current changes and interpretations.
– Review your equipment. If you haven't officiated for months some parts of your uniforms and equipment may have disappeared and will need locating. Don't show up for your first game and discover you are not fully equipped!
– The pandemic is not over completely and some leagues and organizations may still require you wear a mask while you referee or at least to do pregame check in. This will require you to have a good mask that covers your mouth and nose. Test out a few masks to select one that works best for you. While refereeing with a mask, it is very difficult to blow a regular whistle. A good alternative is an electronic whistle. These are available online. Official Sports International has them and you can order one online for $15.00. If you already have an electronic whistle check your batteries before you go out to referee this spring.
For those of us who enjoy refereeing, having soccer finally start up is definitely something to look forward to this spring, make sure you are prepared.
---
Michigan Referee Committee

State Referee Administrator (SRA): Carlos Folino
State Referee Chairman (SRC): James Wheeler
State Youth Referee Administrator (SYRA): Ronald Grobbel
State Director of Referee Development (SDRD): Yuya Kiuchi
State Director of Assignors (SDoA): John Corbett
State Director of Futsal (SDF): Richard Gilbert
Email addresses are the title in parenthesis plus @michiganrefs.org
Please reach out to us!
If you have any referee-related stories to share or someone you think should be featured in this newsletter, please reach out to us at sdi@michiganrefs.org.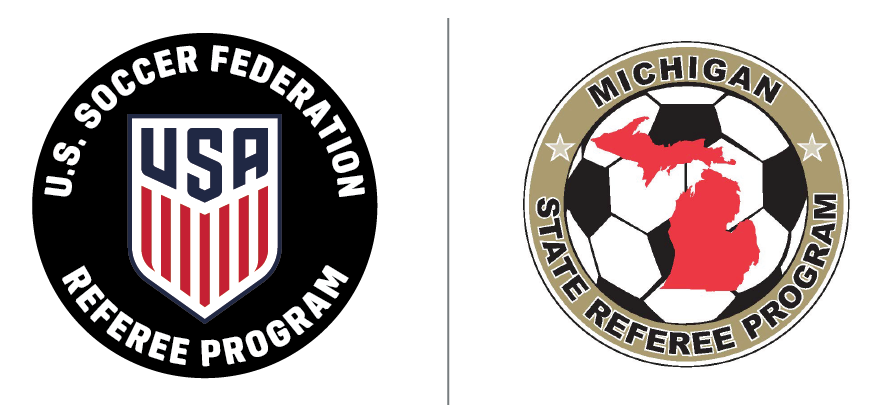 MRC announcements
Many of you may be wondering what will happen with the spring soccer season. You can find the latest information here.
If you know anyone who would like to become a referee, we offer numerous grassroots referee classes, as well. You can find relevant information here.
Contact one of us on the Michigan Referee Committee if you have any questions.