January Newsletter
Volume 4, Issue 1
January 1, 2023
---
From the Editor
Hello readers and welcome to 2023! We hope you had a wonderful holiday break with family & friends. I want to start this newsletter by acknowledging the history that was made by the US Referees who were at the FIFA World Cup. What an incredibly proud moment for US Soccer and the referee program, seeing multiple officials representing the US on the largest platform our game has to offer. Congratulations to all of the officials who represented our country so well and we will recap their accomplishments in this edition. In this issue we remember some of the best moments of 2022 and preview what is to come in 2023. We will also share the new Michigan Referee Program logo.
If you have a topic or story that you think would be a good feature in our Newsletter to kick off 2023, make sure to share it with me at balcer.nicholas@gmail.com. Also stay up to date with everything referee related from the MRC through our media channels: Twitter, Instagram, Facebook, YouTube, and our Blog.
Coming Up in Michigan
New Referee Courses

January 20- Rochester Hills
January 21- Petoskey
January 29- Berrien Springs
February 5- University Center
February 11- Lansing
February 11- Farmington
February 27- Farmington

February 28- Regional Referee Upgrade Application Deadline
MSYSA Young Referees of the Year
Each year the Michigan State Youth Soccer Association in conjunction with the MRC, recognizes 2 young individuals as the Young Male & Female Referees of the Year. SYRA Ron Grobbel takes nomination letters from referees, instructors, assignors and referee coaches throughout the year. The individuals selected have to write a letter about themselves including their background in refereeing, ways they are involved in their community, and what a few of their future referee goals are. Then a selected committee reviews the candidates and selects the 2 award recipients. Let's meet the 2022 Young Male & Female Referees of the Year!
Young Female Referee of the Year – Jessica Stewart
Jessica started playing soccer at the age of 8 and began refereeing at 12. She wasn't sure if she wanted to get into refereeing, but encouragement from her family and some friends led her to get certified and she is going to be starting her 4th year as a US Soccer referee in 2023. She plays goalkeeper for Spring Lake High School and helped lead her team to the MHSAA D2 State Finals in 2021 finishing runner-up. In August of 2021 she tore her ACL while playing for her club team, but made a very quick comeback for the spring 2022 season. Jessica plans to go to college to study Physical Therapy in the fall of 2024 after she graduates high school. She says that refereeing has taught her empathy and compassion for the officials seeing how difficult of a job it can be. She plans to continue officiating to serve as a role model to younger players and encourage them to stay involved in the game.
Young Male Referee of the Year – Adam Festian
Adam got started refereeing as a way to make money. As time passed he grew into the game and it became more about a love for the game. When he started in the game, he was timid. Over the years he has learned from other officials and mentors who have helped his confidence grow immensley. Outside of school and soccer, Adam volunteers for Open Door Ministries, which helps provide food to those who are in need. He says that soccer has taught him a lot about other things in life and skills that he uses everyday. He plans to continue refereeing and has the goal of upgrading to a regional referee in the near future, along with giving back to the game encouraging other young referees along the way.
Congratulations to Jessica & Adam for being recognized by the MSYSA & the MRC for your contributions both on and off the field. After each state picks their award winners, they are put into the category for the Regional Young Referee of the Year. We are excited that Adam was selected as the Midwest Region Young Male Referee of the Year as well!
2023 National Camp
During the month of December, US Soccer hosted its annual National Camp for referees and assistant referees at the US Olympic Training Center in Chula Vista, California. Over the 2 camp weekends, over 160 officials from across the country attended. Michigan had 3 assistant referees present this year, Jake Brochu, Christian Little, and Jacob Little. All 3 are beginning their 2nd year as National ARs. Joining them was Yuya Kiuchi, who served as an instructor for both weekends and taught the session on handball.
Before classroom sessions start, the officials must run the FIFA Referee Fitness Test. Officials are split up into their designations of female referees, female ARs, male referees, and male ARs and must pass the designated FIFA Fitness test for their gender and position. The tests consist of 6 shorter timed sprints of 40 meters for referees and 30 meters for ARs. The ARs must also complete a Change of Direction Ability test, also known as CODA, which is a 10 meter sprint, with (2) 8 meter side shuffles, and then a 10 meter sprint. Then the officials run the interval test of 75 meter sprints with a 25 meter rest/walk.
After the fitness tests, officials are split up into groups to work through the different sessions taught by instructors focused on the points of emphasis for the 2023 season.
Key Takeaways by the officials from classroom sessions:
"The offside session was very informative, gaining more knowledge about deliberate vs. deflection. They talked about how to make a decision based on distance of where the ball is coming from, if it's on the ground vs. in the air, and different scenarios that go into determining the outcome."- Jake Brochu
"There was a big emphasis with DOGSO & SPA" says Jacob Little. "They talked about the considerations, especially regarding the ability/likelihood of gaining control of the ball."
"A lot of focus on foul/misconduct identification, DOGSO vs. SPA, and some new law changes such as offside."- Christian Little
* Note: Nick Balcer & Joe Suchoski are also National ARs from Michigan who will be attending the PRO Preseason Camp in Houston for PRO & PRO2 officials January 20-22, 2023.
Pictured below:
(1) Yuya Kiuchi & Jake Brochu after National Badges were passed out
(2) Jake Brochu with fellow officials after passing the FIFA Men's AR Fitness Test
(3) Jacob Little, Yuya Kiuchi, & Christian Little leaving camp in the San Diego Airport
Year in Review from the SYRA
We asked Michigan SYRA Ron Grobbel to share some of his highlights from 2022 as he looked back on the year that was.
The MRC currently has over 3,400 referees registered with more on the way. We are excited that the numbers continue to be trending upward over the last few years.
There were a total of 242 matches that were played at the MSYSA State Cup Weekends and a total of 726 referee assignments. That is a great number of opportunities for referees!
Last summer Michigan was proud to send 17 referees and 4 coach-mentors to the US Youth Soccer Midwest Regional Championships at Grand Park in Westfield, Indiana. 7 referees were selected to represent Michigan and the Midwest Region at the National Championships- Evan Barnett, Marcus Barnett, Meghan Brasseur, Jason Cross, Ryan Homik, Michael Koziara, & Rob Ruta
The Presidents Cup was also an opportunity for Michigan Referees to shine and we were able to send 12 referees and 3 mentor-coaches to the event held in St. Louis, MO. At the even Evan Barnett, Jason Cross, & Brendan Dunavant were selected to attend Presidents Cup Nationals
A few years ago the Carlos Folino Young Referee of the Year Scholarship was started and is awarded to the 2 recipients of the MSYSA Young Referees of the Year. We were proud to recognize Jessica Stewart & Adam Festian with the Scholarships and the Awards
"I am thrilled with the success of the 2022 season. Our referees have put in so much work to get better and I am excited to see us build on that success for 2023." – Ron Grobbel
*Note- At the US Youth Soccer Midwest Regionals, Ron received the Richard J. Grady Mentor of the Event Award for his work as a mentor. Congratulations Ron on this recognition for your work with the referees!

Upgrading to Regional for 2024
There is still time to sign up to upgrade to a Regional Referee for 2024. If you are wondering if you are able to upgrade, here is a list of requirements that need to be met for application.
Will you be 18 years or older by December 31, 2023?
Have you been a US Soccer certified referee for three (3) consecutive years?
Have you completed your annual Safe Sport certification?
Can you PASS the FIFA Women's Referee Fitness Test?
Taking into consideration the previous game experience for ONLY ADULT AMATEUR level soccer matches, AND those you will have officiated by December 31, 2023,
Will you have the experience as the center referee for ~ 25 games and 15 as the assistant referee?
For the game count requirement, youth games do not count. Only adult amateur and above will count. If you said yes to all the questions above and are interested, you can submit your application here: Regional Referee Upgrade. Upgrade application is due on Feb 28, 2023.
FIFA World Cup Recap- History, History, & more History
Many of us watched in awe and astonishment at the display of the World Cup and especially the World Cup Final. 2 of the greatest players going toe to toe on the biggest stage in front of hundreds of millions of fans around the globe. As they dazzled, a 3rd team put together a spectacular performance and piece of history themselves, the referee crew.
For the first time in Men's FIFA World Cup Final history, an American official was on the crew. And not just 1 official, 4 of them. Joining the Polish crew of Szymon Marciniak (Referee) , Pawel Sokolnicki (AR1), & Tomasz Listkiewicz (AR2) were Americans Ismail Elfath (4th official), Kathryn "Katy" Nesbitt (Reserve AR), Kyle Atkins (Offside VAR) & Corey Parker (Reserve AVAR). Katy Nesbitt also made history by being the first ever female to be assigned to the Men's Final in any role and first ever female to officiate a knock out round game at the Men's World Cup when she was AR2 for the Round of 16 game between England vs. Senegal.
In continuing with many pieces of history at the 2022 FIFA World Cup, we also recognize the first ever all female on field crew. In the final game of Group E, Stéphanie Frappart (France), Neuza Back (Brazil), and Karen Díaz Medina (Mexico) took the field to officiate Germany vs. Costa Rica.
We want to congratulate all of these referees for their amazing accomplishments at the 2022 FIFA World Cup. It was a historic moment for all of them and a historic moment for the US Soccer Referee Program.
Pictures:
(Top) FIFA World Cup Final Crew- Nesbitt (Reserve AR), Elfath (4th), Sokolicni (AR1), Marciniak (Referee), Listkiewicz (AR2)
(1) Katy Nesbitt as AR2 for England vs. Senegal Round of 16 Match
(2) Back (AR1), Frappart (Referee), Díaz Medina (AR2) for Group E Germany vs. Costa Rica
(3) US Referees at the World Cup- Parker, Elfath, Nesbitt, Villarruel, Atkins
2023 PRO Preseason Camp
he Professional Referee Organization (PRO) will be hosting their preseason camp in Houston, Texas from January 20-22. PRO Senior match officials, PRO2 officials, and PRO assessors will be in attendance. Going from Michigan will be Jason White (PRO AR), Nick Balcer (PRO2 AR), Joe Suchoski (PRO2 AR), Yuya Kiuchi (PRO Assessor), and Carlos Folino (PRO Assessor). The group will be going through Laws of the Game changes, points of emphasis in the professional leagues, and video clip discussions and analysis.
Who is this?- Revealed
In December we shared this photo of someone wearing bananas on skateboard socks to a MRC function and asked you to guess who it was. Well the results are in and… the consensus was correct! It was in fact Yuya Kiuchi who was sporting these! Thank you to everyone who voted.
MRC Winter Continuing Education
During the month of January, the MRC will start our Winter Continuing Education. The series will include 6 different special topics & a technical topic taught by different instructors. You can join us via the Zoom link listed below on each of the 6 dates. The sessions will start at 7:30pm and last around an hour.
January 18
Special topic: Moving up the ladder from grassroots to national (Jacob Little)
Technical topic: Offside
January 29
Special topic: What professional referee assessors observe (Yuya Kiuchi)
Technical topic: Penalty Area Incidents
February 9
Special topic: Life as a national official (Christian Little)
Technical topic: Challenges
February 19
Special topic: Taking advantage of opportunities (Jake Brochu)
Technical topic: Tactical fouls
February 28
Special topic: Moving up the ladder from recreational to State Cup and beyond (Ron Grobbel)
Technical topic: Handball
March 15
Special topic: Moving up the ladder from State Cup to Regional and beyond (Francisco Villarruel)
Technical topic: Game Management
Join Zoom Meeting- MRC Winter Continuing Education Zoom
Meeting ID: 893 1248 1004
Passcode: ConEdu
New Michigan Referee Program Logo
As the MRC continues to educate, recruit, and expand its footprint, we also continue to adapt and update. The reach of the MRC over social media and other channels continues to grow, and so does the recognition of the Michigan Referee Program. Last year after the MRC added Eric Siegrist as the Manager of Communications, it was agreed that an updated look was needed. After time spent brainstorming and designing, the MRC is excited to share the new Michigan Referee Program Logo! A special thank you to Eric Siegrist for all of his work in designing the logo and organizing its rollout to begin 2023.
ARs: The Good, the Bad, and the Ugly
By Ken Wikle, Regional Emeritus Referee
A truly good AR is a valuable asset in a challenging game. In an otherwise routine game a less than proficient AR who is not positioned well, doesn't have precise flag signals, or who misunderstands the Laws of the Game can cause a real problem for the referee. An AR who realizes their value to the team, practices good mechanics, uses precise flag signals, and offers valuable information to the referee when they are unsighted, can turn a difficult situation into a critical decision to control the game.
What are some of the situations that can go terribly wrong, or right, where an AR is concerned?
Goal line situations
To make accurate calls on the goal line, an AR has to be at the goal line or as close as possible when the ball reaches the goal line. We all know the ball can beat us to the goal line. The challenge for the AR is to get there as soon as possible in search of the correct decision. A truly good AR will be sprinting to make it to the goal line. A less than effective AR will give up or not try at all, standing where they were when the ball was kicked and offering a guess for their call.
Is it a corner kick or is it a goal kick? Did the ball go across the goal line inside the goal and come back onto the field? Balls roll across the line and goalkeepers pull them back quickly. Teams have been robbed of goals by officials whose teamwork failed due to a poorly positioned or inexperienced AR.
Serious misconduct
In a hotly contested game players may commit violent acts. When an act of misconduct is committed behind the referee's back or when s/he is unsighted, a reaction by the officials needs to occur. The input of an AR who visually witnessed the incident may be very important. When this happens behind the referee's back, especially when an attack on goal is underway, it may take some time to resolve. If the incident is serious enough to warrant a card the AR needs to keep their flag up until the referee acknowledges it. A verbal conversation may also be necessary.
Referee teams that can handle misconduct for incidents not in the view of the referee will provide justice and fair play for the game. An AR who thinks "Oh well we missed it" and does nothing is setting up the officials for future problems that may occur sooner than they think.
Offside
For close offside situations a referee must depend on a well-positioned AR who has a full understanding of the offside law. Is the AR maintaining a position dead even with the second to last defender? Is the AR concentrating? Can the AR distinguish between a defender making a play on the ball or simply having the ball deflect off them? On a direct free kick or pass, where was the attacker when the ball was kicked versus where the attacker received the ball? Did the attacker, in an offside position, receive the ball directly from a throw in, corner kick or goal kick? ARs who understand the offside law, concentrate and stay in position are an invaluable assist to the referee. Players, coaches and spectators will complain because they either don't have a full understanding of offside or will think from their angle on the field that attackers are offside when a well-positioned AR will know otherwise.
Clear, precise, timely flag signals
An assistant referee communicates primarily with his flag. In order to control the game properly the referee needs to understand the signals because they are made clearly. When a sloppy corner kick signal is made, the referee, if they are blocked, may need the AR's signal for the restart. A signal that looks half like a goal kick signal and half like a corner kick signal leaves the referee wondering. This is not clear communication.
Waving the flag is only appropriate when the AR is calling a foul. Waving or cracking the flag to get the referees attention for offside, an injury or an illegal throw-in should not be necessary. if the referee is paying attention and well positioned, they will see the flag.
Flag signals for offside need to be made in the "rhythm" of the game. A late offside signal sometimes is necessary, but clear offside situations need to be flagged when the referee makes eye contact with the AR. A late, indecisive offside signal does not bolster trust in the officiating team.
Misapplication of the Laws, cases of mistaken identity or serious mistakes
An AR has the responsibility to the game that transcends their job to assist and agree with the referee. That responsibility is to see that the Laws of the Game are followed. If the referee is in the process of making a serious mistake an AR needs to intervene before play is restarted. If the referee cards the wrong player for misconduct and the AR has better information, the AR needs to get to the referee and offer that information. A card can be rescinded or changed if play has not resumed. The referee may issue the wrong card for an offense in the penalty area or an incorrect decision when there is an offense during a penalty kick. If an AR knows that a mistake is being made, they need to intervene to see it is corrected. Although the referee may have made a mistake, correcting it before play is restarted will be appreciated by the teams and, upon reflection, by the referee. ARs are a valuable part of the game and have an important role to play. Assisting the referee, making sure the Laws of the Game are applied correctly, using proper mechanics, and communicating clearly are all part of their job. If you are assigned as an AR you have an important job to perform which deserves your best effort. Be the good AR not the ugly.
---
Michigan Referee Committee

State Referee Administrator (SRA): Carlos Folino
State Referee Chairman (SRC): James Wheeler
State Youth Referee Administrator (SYRA): Ronald Grobbel
State Director of Referee Development (SDRD): Yuya Kiuchi
State Director of Assignors (SDoA): John Corbett
State Director of Futsal (SDF): Richard Gilbert
State Director of Recruitment (mgr.recruitment): Kristy Bos
State Director of Communication (mgr.communications): Eric Siegrist
Manager of Performance Observation (mgr.observation): Tim Deters
Manager of Field Sessions (mgr.field): Jeff Dornseifer
Manager of Video Analysis (mgr.video): Nichole Kramer-Kiuchi
Manager of Pedagogy (mgr.pedagogy): Kalani Burghard


Email addresses are the title in parenthesis plus @michiganrefs.org
Please reach out to us!
If you have any referee-related stories to share or someone you think should be featured in this newsletter, please reach out to the Editor-In-Chief, Nick Balcer at balcer.nicholas@gmail.com.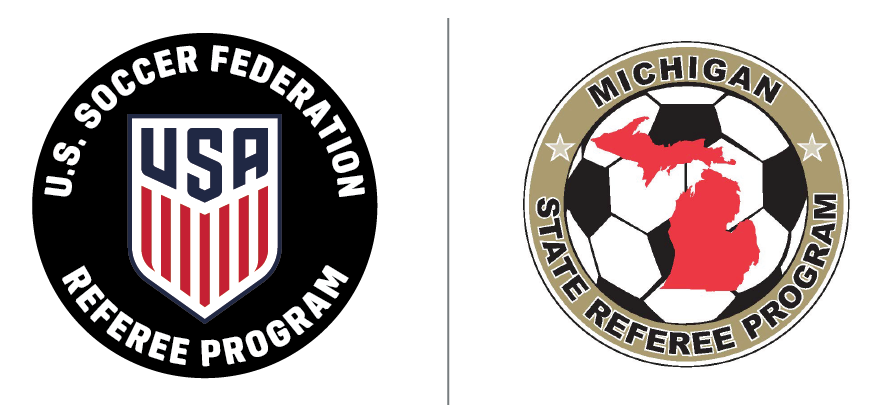 MRC announcements
If you know anyone who would like to become a referee, we offer numerous grassroots referee classes, as well. You can find relevant information here.
Contact one of us on the Michigan Referee Committee if you have any questions.