June Newsletter
Volume 2, Issue 6
June 1, 2021
---
Special Points of interest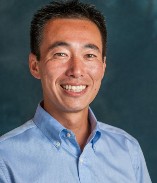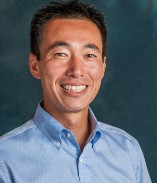 Welcome to the June issue of the MRC newsletter. Once the games started a few months ago, we have been very busy. I am sure the same with you with all the game assignments.
Many MRC mentors attended quite a few tournaments throughout the state in May. We received a lot of good feedback about referees. Our focus is on those who are in their first three years after certification. We hope to give them positive feedback to help them enjoy officiating.
We also had the spring State Cup weekend at the end of the month. Unlike previous years, we did not have our Friday training session. Only administrators and some referees who had a morning match stayed at the hotel. It, for sure, was a different atmosphere. The State Cup semi-final and final games will be played in the first weekend of June.
Higher-level officials have also been active. Our officials have been working on MLS, USL, MWPL, and many other adult games at the national and regional levels. Within our state, MUSL, MPSL, MMMSL, AAPL, and a few others have started playing. If anyone wants to become a regional referee, there is a game count requirement at the adult level. So please reach out to assignors if you would like work on an adult game.
June is the last month of the U.S. Soccer registration year. July 1 will be a new year. As soon as we hear from U.S. Soccer about the 2021-22 registration, we will make an announcement. But for now, if you know of anyone who is interested in becoming a referee, taking one of the Zoom classes in June will be the last opportunity to become certified before the registration year ends. We cannot offer a 2021-22 class until we hear from the U.S. Soccer. While we hope to offer classes in July, we do not know exactly when we hear from them. So please advise anyone interested to take a class in June.
As always, our June newsletter is full of exciting stories and information. We are featuring Mr. Gerald Ouellette as the former MRC member of the month. He was the State Director of Assessment. Our regular content includes Referees of the Month and Who's Who. We are featuring Brad and Justus Heers as the Referees of the Month, and Amy Willing for Who's Who. If you have been a soccer fan for a while, you may remember the U.S. vs. China match in 2008 at Ford Field. Amy was an assistant referee on the match. We have an article by Nichole Kramer-Kiuchi, talking about her referee coach class experience. Ken Wikle has an article about goalkeepers.
Beyond this newsletter, please be sure to follow our Twitter (@MichiganReferee) and subscribe to our YouTube Channel.
Michigan Referee Committee: Gerald Ouellette
Gerald (Jerry) Ouellette
Former State Director of Assessment
For the May newsletter, we also had an opportunity to interview Gerald Ouellette, a former State Director of Assessment.
When and how did you become the SDA of Michigan?
I became SDA in 2004 from then current SDA Mike Bodary at his request. I continued as SDA until 2012.
How were you involved in Michigan soccer before you became the SDA?
I was at a AYSO game and the referee asked me to be a club linesman. I was hooked and began my refereeing career as a AYSO referee in the 1980s. I became an AYSO National 1 referee. I became a USSF referee in 1990 and upgraded to State Referee in the mid-1990s. That led to me becoming a NISOA and MHSAA referee. At that time the competitive men's matches were in the Detroit area and I traveled there every opportunity to get games. I have been fortunate to be selected as a referee in many top level matches. Many thanks go out to the many assignors, instructors and assessors who helped me along the way. In 2000 I became a USSF assessor, instructor, and assignor.
What did you enjoy the most about being the SDA? What is your best memory?
To say the most enjoyable is difficult since many of the experiences I had were enjoyable. The friends, referees, and players I met along the way all were enjoyable. Being able to raise the assessment program to importance and training assessors was great. I enjoyed solving problems with getting referees upgraded and providing guidance for them. I cannot give you a specific best memory since so many have been received. I know that just being able to help referees along their referee path to develop is great. I saw many of them become great referees and cherish watching them do a match.
What was your experience as the SDA like?
Except for law changes, the National Program allowed us to organize and present lessons geared for our state. A few of our Michigan National Referees asked how they could assist me in developing independent topics to present at the numerous recerts that were offered throughout the state. Many of the topics included lessons they had seen at their National training classes making all of our officials more knowledgeable. The goal was to make sure all of our officials were calling things the same way rather than only what each region was developing locally.
Do you still remain active in refereeing?
I am not currently active in refereeing. In 2020, I retired from my role as Regional Premier Assignor.
What is your best memory of being a referee?
Again this is difficult to answer since my involvement in soccer for 40 years has given me great memories. I feel that the friends I have made during this time will be in my memory forever. Being able to help other referees and seeing them develop is rewarding and memorable also.
What made refereeing exciting or fun for you?
I learned something new from every game I did and observed. I was challenged to do the best I capable of many times and would use that to do my best. I also was fortunate to see many great Referees in my career and now see them at the top of their game is exciting. I only hope that I had a small part in their development.
Other being the SDA, did you hold any other roles in the soccer world, including locally?
I was actively involved in AYSO, MHSAA, NISOA, and USSF locally and in West and North MI. I was an instructor and assignor for West MI and in that capacity called upon to serve on several local soccer committees.
Do you have any advice for aspiring referees?
Yes, each referee has a style and skills to make them better. Learn from every game that you do and encourage feedback from fellow referees and mentors/assessors. Watch the top-level referees and see how they handle a situation and see if it applies to you.
Make yourself available for assignments and request observations. Find a good mentor and keep a positive attitude. One thing I always strived for from referees was to show that they enjoy being there. Ignore the fans and be approachable for players and "some" coaches. Listen to what they are saying and remember sometime what they say has merit.
ENJOY THE GAME and do your best.
National League Showcase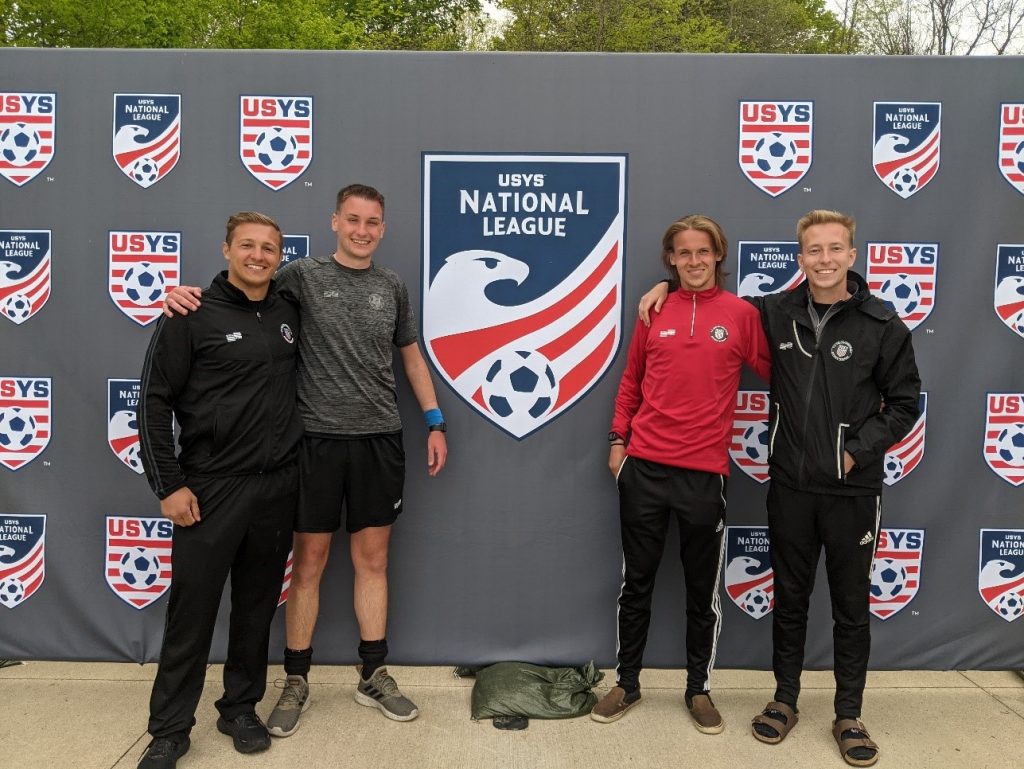 On May 7th through the 9th, the Michigan Referee Committee sent 7 Michigan referees (Robert Ruta, Jared Brzezniak, Brendan Dunavant, Justin Janulewicz, Ryan Homik, Tyler Gregory, and Jordan Howard) to Indianapolis, Indiana, for a National league event. Three Michigan referee coaches and mentors (Yuya Kiuchi, Nichole Kramer-Kiuchi, and Francisco Villarruel) also attended the event. The players showcased some of the highest level of youth soccer in the Midwest and the best referees from the Midwest were selected to attend this event.
All US Youth Soccer events are filled with learning opportunities with every game being watched by a referee coach that would give feedback after your game. I had the chance to work with Erin Patterson a female referee that has worked pre-season NWSL matches. It was very exciting to work with a high-level referee from another state and see how she manages a game and to talk to her about what made her start refereeing. It was incredible to hear other people's stories and to see that even pro referees are still people and experience the same things everyone else does as a referee going from grassroots to regional and to a national referee. I cannot wait to share the things I learned with my fellow referees back in Michigan.
Outside of the National League event, we toured the city and saw many exciting attractions like the Benton House Historic Botanical Garden and Eagle Crest Park home of the best sights in all of Indiana and dined at the exquisite Verde authentic Mexican restaurant.
The Michigan delegation of referees learned a lot from this event and enjoyed refereeing soccer in gorgeous Indiana weather and seeing our referee friends from out of state. If you are interested in attending these events, consider going to Michigan State cup and talking to Ron Grobbel about your goals and ambitions as a referee.
How to Remain a Regional Referee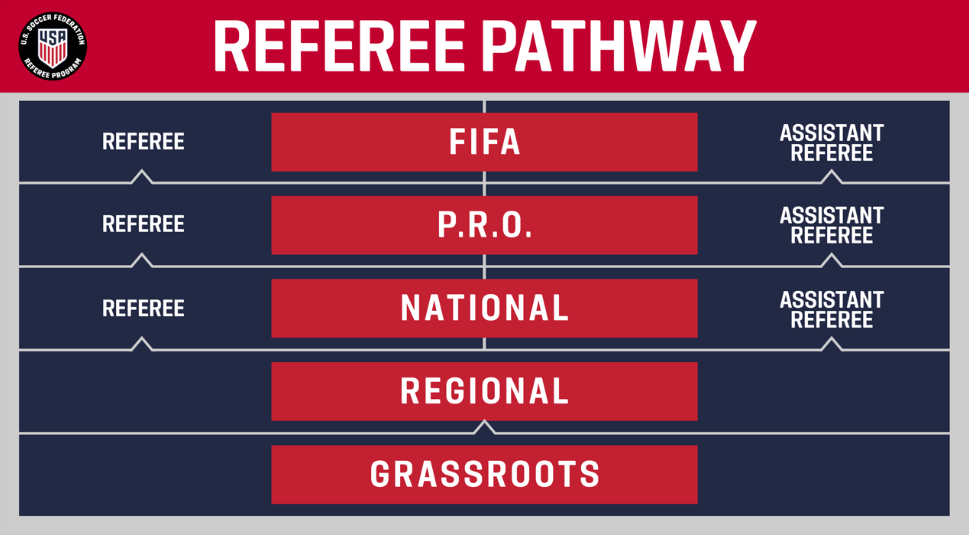 Last month, we discussed how to become a regional referee. This month, we will discuss how to remain a regional referee once you become one.
As a regional referee, you will receive an email from the Michigan Referee Committee (usually Jeff Dornseifer, the Manager of Field Session) about the fitness test. If you wish to remain a regional referee, you must first take and pass a fitness test. The fitness is the same with the one given to upgrade candidates.
Once you pass a fitness test, you will have to be evaluated on two matches as the referee. You may elect to be evaluated on two adult games or you may choose 1 adult game and a highest youth match. The highest youth match must be at least the State Cup final or semi-final match. ENCL, NLC, and other regional and national competitions. But the game has to be either a U18 or U19 game. Once you pass both evaluations and complete all other course requirements, you will receive a regional referee badge the following year.
This means you cannot just keep your regional referee badge without working on games or training to pass a fitness test. The days of "once you become a regional referee, you will always be a regional referee" is gone. You must work hard to maintain a badge that about only 1% of the referees in the state hold.
Mentoring at Tournaments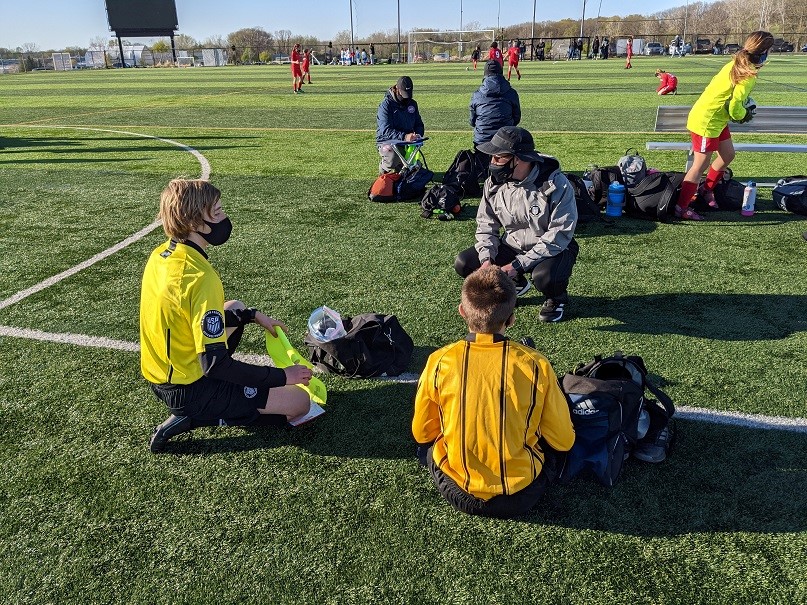 Many of you might have attended various tournaments across the state. The Michigan Referee Committee mentors were present in Plymouth, Brighton, Lansing, Traverse City, etc. just to name a few in the last several weeks. The MRC's emphasis as have been stated in previous newsletters and elsewhere in this newsletter is the referees who have been certified for the first time in the last few years. We noticed that not enough new referees were receiving feedback, possibly contributing to more referees to quit officiating. So if an MRC mentor approaches you to talk to you, please welcome them. Ask them many questions. They are there to help.
Referee of the Month: Brad and Justus Heers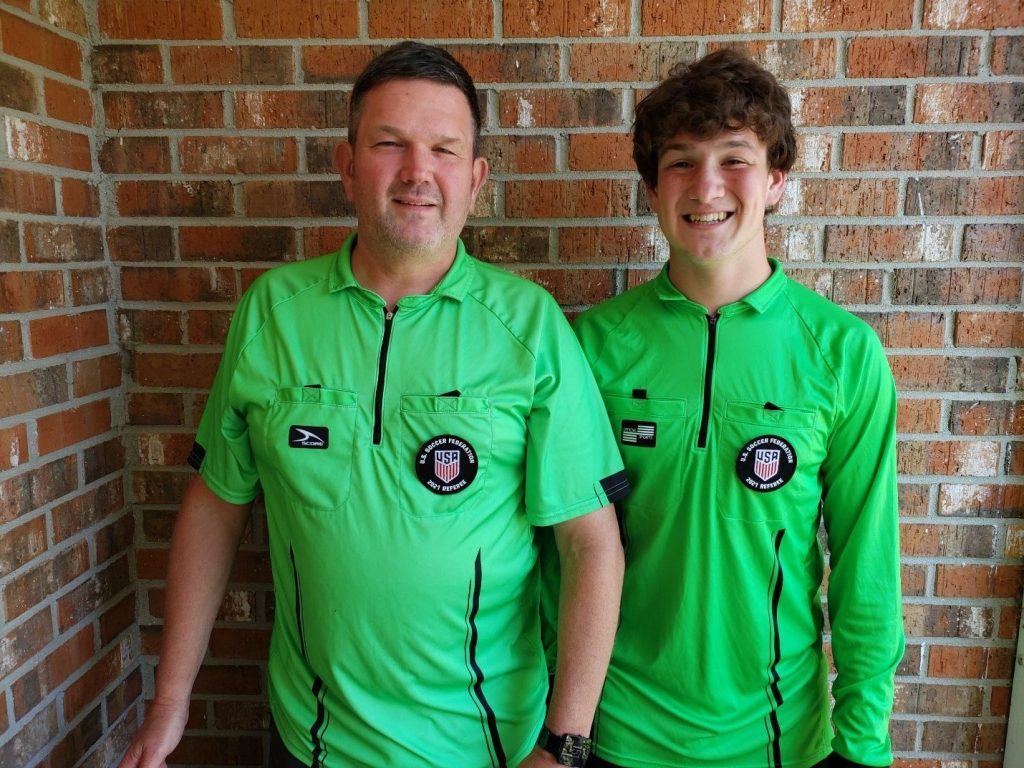 Brad: Many adult referees with whom I work assume that it was me who got Justus into officiating; in fact, it was the opposite. I had played and coached, but didn't get into officiating until Justus expressed an interest.
Justus: I was 9 or 10 years old and playing U11 with my dad as our coach. He had stacks of money in our drawer to pay the referee fees and one time I asked how much. I thought I could do as well or better than many of the kids whom I saw…. So I asked my parents when I could become a referee.
Brad: Justus wanted to become a referee as soon as he turned 11. I expected that I would be driving him for at least the next five years so I might as well join him.
Justus: I started out figuring it would be fun and I could make money. But in my very first game as referee I also realized that there was a path to bigger opportunities. The coach of my first-ever game was a bit overenthusiastic and kept stepping onto my touchline. I politely asked her to move back so that I had a good view and she apologized and complied. Only after the match did she approach me, ask me how long and I had been reffing, and then when she found out it was my first match complimented me on being confident enough to confront her and in how professionally I had managed that. The coach was Stephanie Pickerel (a referee mentor) who was coaching her daughter Alexis, and we quickly formed a friendship. She explained her path to a National Candidate and made me realize that this can be more than simply a "kid job." She has been a great mentor, and it has been fun to be able to work alongside Alexis and mentor her in turn.
Brad: It has been fun to watch Justus grow as a referee and to do matches together. We have done tournaments all over Michigan and a few in Ohio.
Justus: In my sophomore year (2019), I was injured two days before my first State Cup weekend in Saginaw–an MCL tear that kept me out of matches and training for three months. Many referees who expected to see me at State Cup knew about the injury. When I returned to play that fall, many referees came up to me before and after my matches, expressing their relief that I was better and able to play and telling me that they were looking to seeing me again on their crews. It meant a lot to realize so many people were rooting for me.
Brad: It has been fun to grow together and learn from each other. Both of us prefer Referee, but are also fine as Assistant Referee. As Referee, Justus has really talked with me and explained the "how and why" of how his approach is different from mine. I am much more "talkative," where he tends to be fairly quiet but lightly joke and disarm the players with humor. We have each chosen a style that fits our personalities and skills. And working with him has made me realize how much I enjoy mentoring, which has led to me pursuing becoming a referee mentor.
Justus: It's been great to learn and grow, and I have always felt really supported by assignors and other referees. Bill Foss has shown up to watch my games "just because," and Erich [Shrewsbury], Sue [Grobbel], and Chico [Villarruel] are always complimentary when I deserve it and give me constructive criticism when I need to hear it. I was proud to earn State Young Referee and Midwest Young Referee in 2019 and I know that it wasn't only MY accomplishment–we have so many strong youth referees in Michigan that we are clearly providing opportunities and mentoring to our young referees. I'm just fortunate that I am coming up in soccer officiating in a state like this. This year I graduate and will be playing in goal for UM-Dearborn. I am excited both to continue playing and to be able to continue to grow as a referee in Michigan.
Our New Mentors
During the 2020-2021 off season, several people who expressed their interests in becoming a referee mentor took a six-month training with the MRC. Three of the participants successfully have recently finished the program and passed all the licensing requirements. Congratulations to the following individuals for their great achievement. Our new mentors are:
Mykela Hawkins
Tim Reed
Jeremy Wittrock
Steve McGuirk also finished the program and will go through the licensing process in the second half of the year.
List of Mentors 2021
With the addition of three new mentors mentioned above, we now have 63 people in the referee mentor pathway, including 3 national referee coaches and 2 referee coaches. Here is the complete list of these referee mentors/coaches. They are here to help all of you. Please reach out to them if you need any help or assistance.
| | | |
| --- | --- | --- |
| Abts, Joshua | Grobbel, Ronald + | Nadzam, John |
| Aguirre-Rivera, Luis | Grobbel, Susan + | Padilla, Jorge |
| Avery, Kevin | Hawkins, Mykela | Petrescu, Octavian |
| Barlog, Brad | Heun, Loren | Pickerel, Stephanie |
| Barlog, Brandon | Hoard, Andrew | Plum, Alexander |
| Blackwell, Simon | Howard, Bill | Potter, Gerald |
| Bos, Kristy | Howard, Jordan | Prim, Doug |
| Buckett, Anthony | Johnson, Andrew | Reed, Tim |
| Burghard, Kalani | Keck, Kaitlin | Rein, Chris |
| Campbell, Conlan | Keith, Matthew | Reznik, Igor ** |
| Coatoam, Thomas | Kiuchi, Yuya ** | Rodriguez, Eduardo + |
| Conine, Dena | Krajkowski, Stanley | Scherer, Aaron |
| Corbett Jr, John | Kramer-Kiuchi, Nichole * | Soraghan, Shaun |
| DeBrabander, James | Krause, Matthew | Villarruel, Francisco + |
| Deters, Tim * | Kuhr, Raymond | Wells, Timothy |
| Dornseifer, Jeffrey | Little, Christian | White, Jason + |
| Esshaki, David | Little, Jacob | Wikle, Kenneth |
| Falberg, Bruce | Livingston, Jenna | Wilkinson, Bill |
| Field, Amanda | Mathieu, Pat | Willing, Amy |
| Folino, Carlos ** | Mccoy, Todd | Wittrock, Jeremy |
| Gilbert, Richard | Mroz, Derrick | Wint, Mike |
** = National Referee Coaches
* = Referee Coaches
+ = Current State Assessor and/or instructor
Regional Referee Fitness Test
As is mentioned above, all regional referees and regional referee candidates must pass a fitness test to be eligible for the 2022 regional referee badge. The MRC continued to host a few fitness tests across the state in May.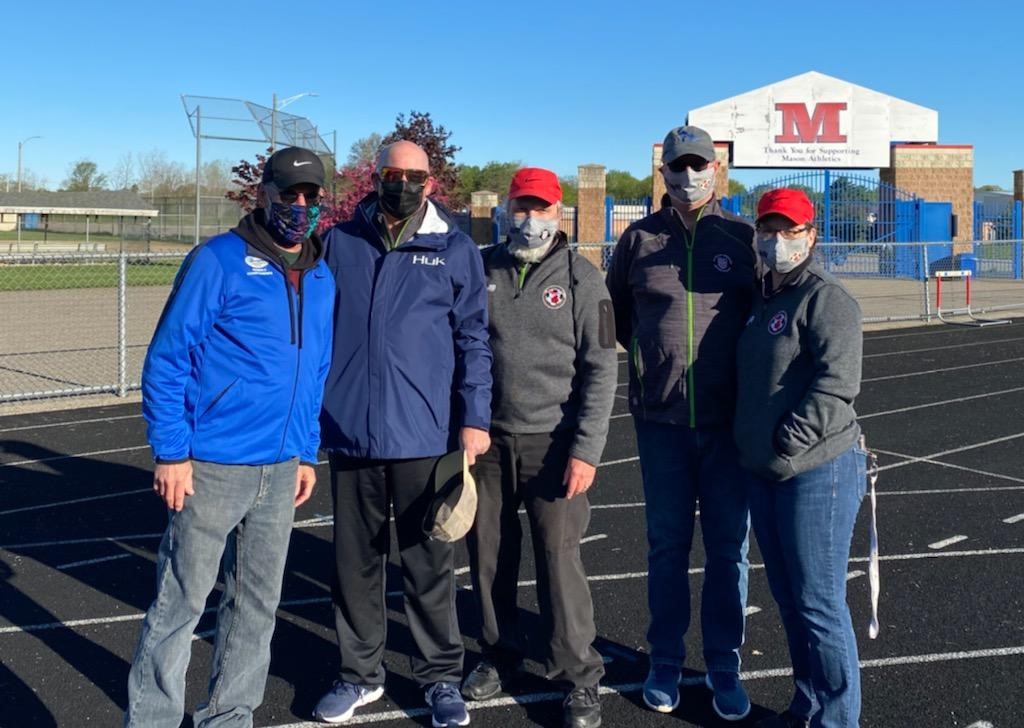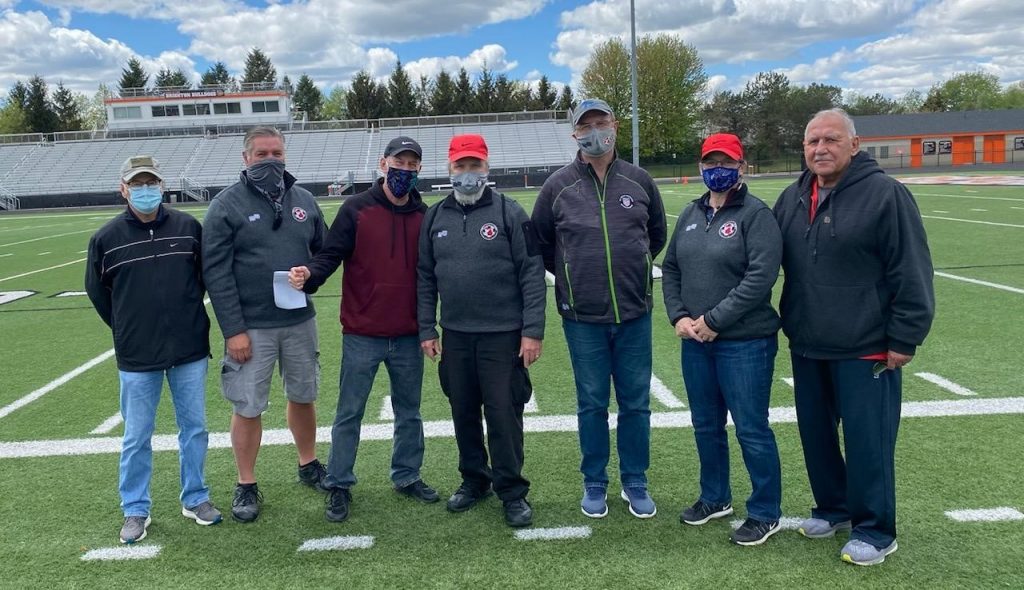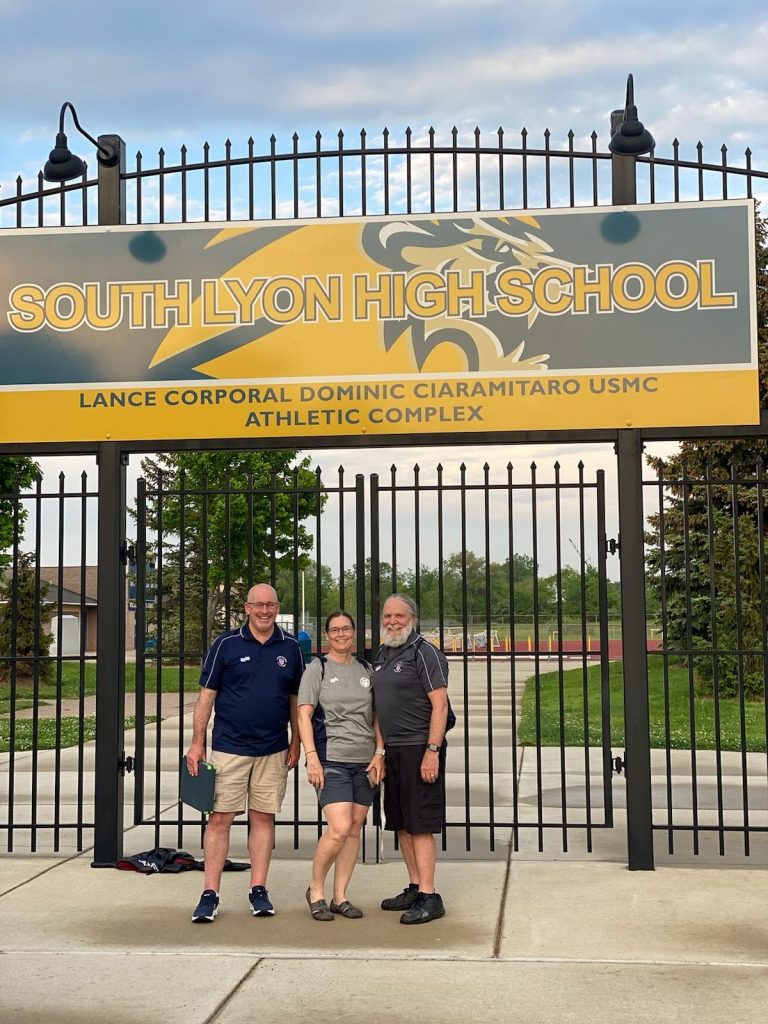 Referee mentor volunteers at the fitness test in South Lyon.
The last fitness test of the year will be on June 10. This test is only for recertifying referees. Upgrade candidates are not invited to this test. Please contact Jeff Dornseifer if you still need to take the fitness test. There will be no more fitness tests after this test. All the regional referees and regional referee candidates that wish to have a 2022 regional referee badge must take and pass a fitness test.
Referee Coach Class: Post-game Reflection and Written Evaluation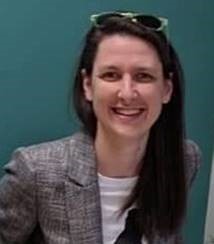 This month we are putting together a couple of tasks of a referee coach, post-game team reflection and written feedback/evaluation. After a performance observation, a referee coach must lead a reflection session with the referee crew. The coach identifies key moments, positive, questionable, and areas for improvement to discuss with the referee crew, guiding them through their decision-making process that the officials applied during the game and reinforcing the decision-making process that produces correct decisions by match officials. This is often done by allowing the referees to discuss the incidents identified, and the coach using the considerations to guide through the discussion and allowing the crew to lead themselves to whether or not the decision was correct. It is really a two-way conversation between the coach and the crew, discussing the game and not just the referee coach lecturing.
After the reflection, the referee coach is tasked with writing feedback and evaluating the performance of the referees. The written feedback should summarize the key incidents discussed during the reflection with the referees. Feedback should clearly describe the incidents, reinforcing positive points and providing tools for the referee to use on areas of improvement for their next game. If the game is a maintenance or upgrade, the referee candidate is then scored based on the difficulty of the game.
During the training, after we had watched the 30 min clip, we noted what points we would prioritize for a debrief. Then since the course was virtual went right into the written feedback. The written feedback was then reviewed by national coaches and feedback provided.
For the Love of the Game
Why do you ref? It's because we love the game! Even if we get drenched and had to evacuate because of a storm warning for the fifth time in a day, we always pack our referee bag again and head to our next game!
What is Your Call?
In the May newsletter, you were given a clip of a challenge and a possible disciplinary action. The survey asked you to identify if a foul existed, and if it did, by whom with possibly with what disciplinary action.
The May video was this.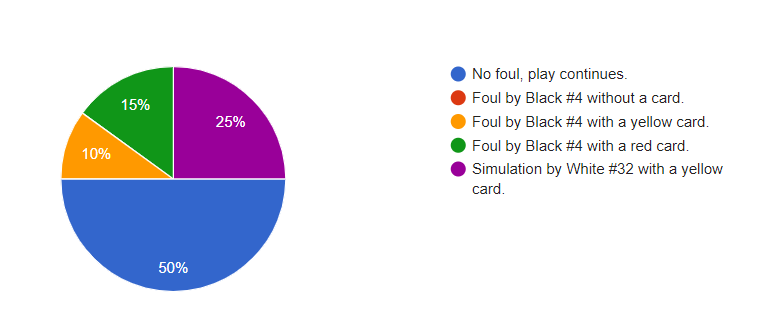 This month, 50% of the respondents had the right answer: no foul and play continues. In this video, the attacker (White #32) trips on his own. Black #4 did not make any contact that made Whit #32 fall. Therefore, the referee must continue the play. Because White #32 fell because he had lost balance, this was not a case of deceiving or attempting to deceive the referee. Therefore, a yellow card for simulation would not be appropriate.
In order to make a correction decision on an incident like this, there are two major factors. The first is referee's physical stamina. The referee must be able to sprint to keep up with the counterattack in order to remain close to the incident and have a good angle to observe this situation. Second, the referee must correctly see the situation to make an accurate decision. Had he called a foul, Black #4 would have been sent off for denying an obvious goal scoring opportunity. Therefore, the consequence of a wrong decision would have been serious.
For this month, we have selected another video on challenge and a possible disciplinary action. You can access the video here.
You can submit your answer here.
For the Love of the Game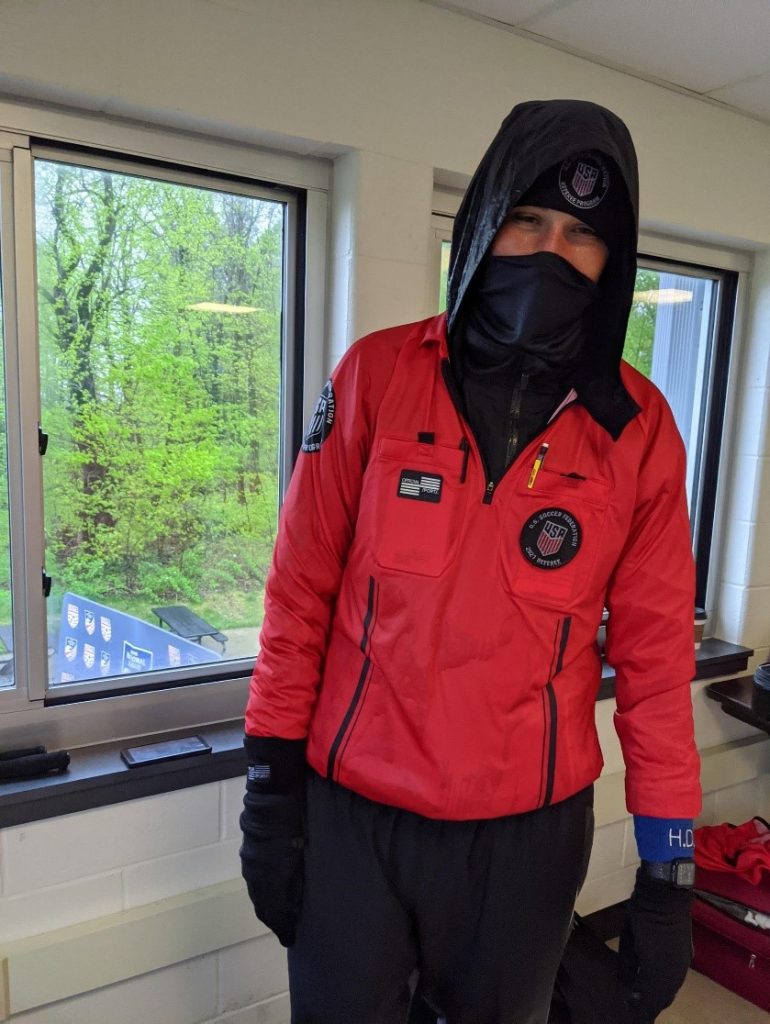 Why do you ref? It's because we love the game! Even if we get drenched and had to evacuate because of a storm warning for the fifth time in a day, we always pack our referee bag again and head to our next game!
Who's Who in Michigan: Amy Willing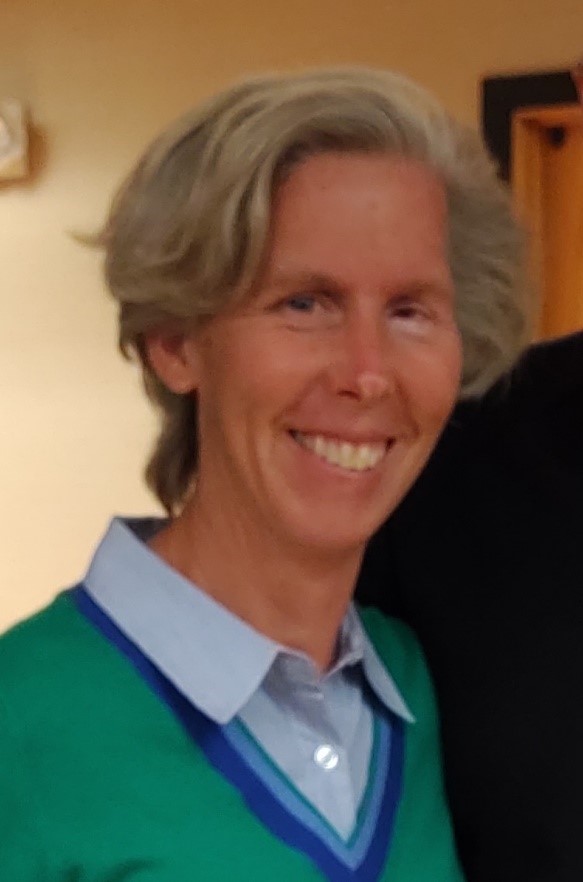 When did you start refereeing and why?
I became a USSF referee in 1989. I had played soccer before and during high school and then while at college as well as during the summer breaks. After graduation I returned to Midland. In my free time, I played soccer in the adult league. During registration I saw a notice about recruiting new referees and I signed up. I thought that being a referee would be how to improve my interpersonal skills and with being in charge.
What do you enjoy most about being a referee and mentor?
It is hard to decide what I enjoy most about officiating. It is a great game and I love having the best seat in the house for the games I "have to watch." And it is a lot of fun! Good exercise and excellent interval training if you want to run a marathon.
What is your best officiating memory?
My best memory is when I was an assistant referee for the U.S. vs. China match at Ford Field in 2008. All the ceremony of an international match with a lot of people was awesome. I remember doing the walkout with the FIFA anthem, the national anthems, and then the game began. Any nervousness I felt soon was gone when the game started and I made my first decision for offside in the first minute. I was proud that I was able to overcome a major health problem which temporarily delayed certification as a National Referee.
What made you a successful referee?
I refereed as many games as I could to get as much experience as possible and learn something in every game. After each game I often thought about how I did, and how to do better. Feedback from assessors and fellow referees helped me for future games. Even now I still learn how I can improve as a referee. All the people with whom I worked here and around the country helped become a successful referee.
How do you remain engaged in the refereeing world these days?
I am involved in instructing, and now mentoring, referees to help them get better and hopefully want to continue. I also continue to referee high school soccer as well as college soccer.
What is the best refereeing advice you've ever received?
Keep working hard to achieve YOUR goals. Seek feedback from friends, coaches, mentors. Do not take feedback that you receive as criticism. We want to you to succeed. HAVE FUN!!
Goalkeeper Issues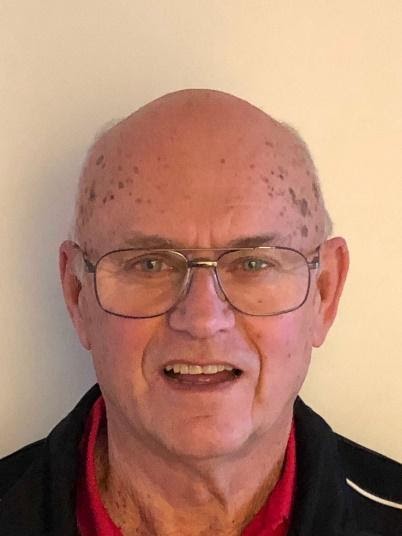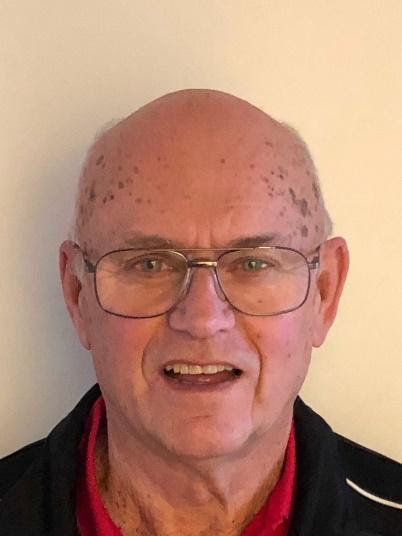 Goalkeepers are special players. They put their bodies at risk regularly for their team to keep the opponents from scoring.
Some teams will try and take unfair advantage of the opponents' goalkeeper in order to try and score or gain an unfair advantage. Referees need to protect goalkeepers from foul play and most of all from injury by unscrupulous opponents.
What are some of the situations referees need to watch during the game?
Corner Kicks
At the taking of a corner kick, many teams are being coached to have a player stand in front of the goalkeeper to block their view of the ball. This player may also try and impede the goalkeeper once the ball is in play or otherwise foul him to prevent him from playing the ball.
All players on the field are entitled to a place to stand unless they are encroaching the restart. A player can certainly stand in front of the goalkeeper during a corner kick but if he impedes the goalkeeper once the ball is in play, the referee should award an indirect free kick. In order to defuse any situations that may lead to additional problems (pushing, shoving, and retaliation), a wise referee will use a little preventative officiating and warn the players verbally after the ball is set on the corner and before the kick is taken. "Hey players take it easy in there!" lets them know you are watching. If this friendly warning does not stop pushing and shoving, hold up the kick, move in and confront the participants. Remember actions which would result in a free kick while the ball is in play are misconduct with the ball out of play. If players do not stop the misconduct, a caution for unsporting behavior may be necessary. Proactive action by the referee can help defuse these situations. Sometimes a goalkeeper who has been previously abused is the aggressor when a player stands in front of them. They must be treated like any other player if they are the instigator of misconduct. The best solution is a referee who can use player management techniques to protect the goalkeeper and also protect the opponents from the keeper if they are the problem.
Punts
Preventing the goalkeeper from putting the ball into play is an indirect free kick offense. The referee has a direct responsibility to protect the goalkeeper even with the addition of this foul in the laws. There will still be some over exuberant players who will run next to a keeper or in front of a keeper trying to release the ball. It is important that the referee be sensitive to this situation and award a free kick the first time an opponent tries this. A verbal warning accompanying the kick should also discourage future attempts, if the same player tries this a second time after a warning and a free kick, it is time to caution this player.
Goalkeepers leaving the penalty area with the ball in their hands while punting can be judged closely by the AR on this half of the field although the call for handling is the referee's responsibility. The mechanics of this call is best handled in the referee's pregame with the referee crew. Allowing a goalkeeper to cheat on his punt is not a major offense but should be enforced. A verbal warning may suffice, however awarding a direct free kick to the opponents just outside the penalty area may offer a chance to score a goal and cure the goalkeeper of cheating in this manner.
Goalkeepers in possession of the ball on a save
An over exuberant forward may try and kick at the ball while in possession of a goalkeeper. The risk of injury to the goalkeeper is high when the ball is on the ground near both goalkeeper and an opponent. The referee must try to get in the best position to view the challenge and make the best decision.
Occasionally goalkeepers will get the "dropsies." A forward that kicks at a loose ball is within his rights to try and take possession, pass, or score. This makes it more important that the referee be in good position, exercise good judgment, protect the keeper but not punish fair play.
One on one attacks on goal (goalkeeper and opposing forward)
Opponents dribbling, one on one towards the goalkeeper with no other defenders intervening can be an exciting event in a game, but they place special focus on the referee to judge whether resulting collisions are fair or foul and who is at fault.
Again, the referee must be in good position to see the challenge. For the referee getting "wide" may be the best solution so they have a view of the play from an angle that allows seeing both the attacker and the goalkeeper's actions and a view of the ball. The AR on this end of the field should have a good angle on a play like this right away and can offer assistance if the referee cannot gain a quick angle on the play.
Because the referee must also possibly award a penalty kick, or send off or caution a goalkeeper for denying a goal scoring opportunity, this can be a defining moment in a game.
A goalkeeper who sustains injury in a one-on-one with an opponent whether fouled or not may cause their team mates to retaliate. If the opponent did not commit a foul, this puts special responsibility on the referee to communicate to the captain who can disseminate information to their teammates to cool them off.
---
Michigan Referee Committee

State Referee Administrator (SRA): Carlos Folino
State Referee Chairman (SRC): James Wheeler
State Youth Referee Administrator (SYRA): Ronald Grobbel
State Director of Referee Development (SDRD): Yuya Kiuchi
State Director of Assignors (SDoA): John Corbett
State Director of Futsal (SDF): Richard Gilbert
Email addresses are the title in parenthesis plus @michiganrefs.org
Please reach out to us!
If you have any referee-related stories to share or someone you think should be featured in this newsletter, please reach out to us at sdi@michiganrefs.org.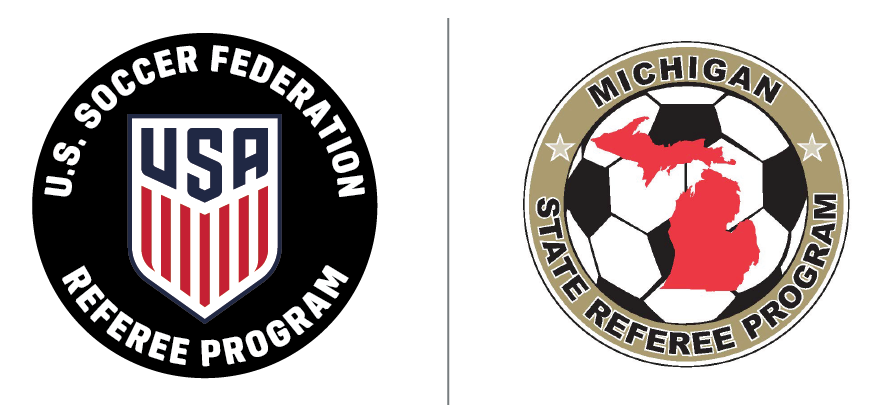 MRC announcements
If you know anyone who would like to become a referee, we offer numerous grassroots referee classes, as well. You can find relevant information here.
Contact one of us on the Michigan Referee Committee if you have any questions.