December Newsletter
Volume 3, Issue 10
December 1, 2022
---
From the Editor
Happy December readers! For many referees across the state, the 2022 season is finished. As the calendar year wraps up this month, we want to thank all officials for their dedication to the game and playing an integral part of matches. This year has had memories, learning opportunities, and many new friendships made. The referee pool in the state continues to grow as the MRC works diligently to certify and recruit new referees. For every part that you have helped play as a referee, mentor, coach, and administrator, we say thank you for 2022. We hope you have a safe and happy holidays, and enjoy the rest of the World Cup! We look forward to seeing everyone in 2023.
If you have a topic or story that you think would be a good feature in our Newsletter to kick off 2023, make sure to share it with me at balcer.nicholas@gmail.com. Also stay up to date with everything referee related from the MRC through our media channels: Twitter, Instagram, Facebook, YouTube, and our Blog.
Regional Referee Course
On November 19, the Michigan Referee Committee hosted the annual regional referee recertification class. All recertifying regional referees and new 2023 regional referees, except for a few, participated in the meeting.
The class was split into three groups, moving from one classroom to another every 50 minutes. By the end of the class, all groups had gone through all three topics: tactical offenses, management, and teamwork.
Our instructors were: Ron Grobbel, Carlos Folino, Jim DeBrabander, Francisco Villarruel, and Tim Deters.
Congratulations to our 5 new Regional Referees! With the addition of these 5, Michigan now has 26 Regional Referees for 2023.
(Left to right)
Ryan Homik
Luis Aguirre-Rivera
Marcus Barnett
Justin Janulewicz
Brendan Dunavant (not pictured)
2023 Regional Referee Fitness Test
The Michigan Referee Committee has announced the regional referee upgrade and maintenance fitness test schedule. In 2023, we will offer 2 fitness tests.
Saturday April 15, 3pm, Lansing/Howel
Sunday June 4, 4pm, Metro Detroit
There will be no additional fitness tests. Those who are upgrading or trying to reinstate their regional license MUST attend the April test. Those who are maintaining their regional license may attend the April session or the June session. The committee highly recommends that candidates take the April test so that if they fail the test in April, they can take it again in June. If a referee fails their fitness test during the June session, they will not be able to maintain or upgrade for 2024. You can sign up for a regional referee fitness test using the link below.
Referee Coach Licensing Class
From November 11 to 14, Yuya Kiuchi attended the US Soccer's referee coach licensing class in Little Rock, AR as one of the observers. The class had 21 current referee mentors who had completed all the online requirements to become a referee coach. In addition to Yuya, the instructors included Kris Bailey, Rick Eddy, Abbey Okulaja, and Sandra Serafini.
The class started with a meet-and-greet on Friday. Candidates completed their video analysis requirement in the morning on Saturday by presenting an assigned video clip and teaching it using the FIFA presentation sequence. In the afternoon, the group moved to a nearby soccer field to conduct a field session. Candidates were put in groups of three and conducted their field session menu. On Sunday, the group attended Arkansas' State Cup to practice performance observation, as well as evaluation of officials. Monday morning included lectures to wrap up the session and one-on-one meeting.
With the introduction of the referee mentor/coach pathway a few years ago, the mentoring approach has vastly changed from the assessor/instructor model. Although most of the attendees at the class were regional assessors and/or regional instructors, they all had to learn the new way of developing referees.
As of December 1, Michigan has two referee coaches, Francisco Villarruel and Nichole Kramer-Kiuchi.
USL1 Final with Joe Suchoski
On November 6th, Michigan's own Joe Suchoski worked as AR2 on the USL1 Final between Chattanooga Red Wolves and South Georgia Tormenta. USL1 or USL League One is the professional league in the 3rd tier of the US Soccer pyramid. Joe is a National AR and also an AR in PRO2. We talked with him to share his experience on the Championship match. Congratulations to Joe on the assignment!
What was your reaction when you got the assignment?
I was at work when I received the notification from PRO for a new game assignment. At first I thought there might be some mistake as there were only 3 matches left on the schedule. When I opened the email and saw I would be AR2 for the USL1 Final I was in disbelief before elation took over! I had to leave the office and immediately called my wife (Brittany Kuhn, a fellow referee) to tell her the good news! I sat down in a hallway and called her while sitting on the floor, soliciting some questionable looks from those passing by before my boss walked by and asked if everything was okay. I told him the good news as well and he was very excited for me as well. The emotional high from just seeing the assignment in my inbox was amazing.
How was the experience?
The experience was absolutely unreal! We (the crew) arrived at the stadium 2 hours early and were able to chat and relax before getting into all the pre-match preparations and festivities. After doing our standard pre-match pitch walk and information exchange with the teams and league liaisons we were ready for the match. During the walkout you could just feel how electric and raring to go the stadium atmosphere was. The minute the first whistle blew, I tuned all other noise out for the next 90 minutes. Both teams played fast with great intensity making each challenge crucial and every call (or non call) extremely important. It was exhilarating to be a part of this match.
What was your biggest takeaway from the game going into 2023?
The biggest takeaway for me from this game and moving into 2023 is continuing to work hard, trust in myself, and stay humble.
Lastly, I owe a huge THANK YOU to the MRC for all of their help, dedication, and confidence in my ability to be the best referee (now assistant referee) that I can be. Without them this dream wouldn't have become the reality it was.
Referee Mentor Recertification Class
On November 19, the Michigan Referee Committee held our annual referee mentor recertification class. It was the first in-person recertification class since the pandemic. Despite the bad weather, over 50 mentors attended the session.
Last year, the class focused on video analysis. This year, the focus was performance observation. Mentors were split into small groups and started by watching 15 minutes of a State Cup game from Spring 2022. Then, they discussed what some of the priority items to discuss with the referee crew were, how to talk about them, etc. They were reminded that as mentors, their role was to facilitate a discussion, and not to lecture or grade.
In the second half of the class, mentors watched different short clips from youth games to discuss how to give advice to referees. We will have 60+ mentors again in 2023. If you are interested in having a mentor on your game, please check out this page: Request a mentor
Instructors for the course were: Ron Grobbel, Andrew Hoard, Josh Abts, Francisco VIllarruel, Brandon Barlog, Derrick Mroz, Tim Deters, Jim DeBrabander, and Kristy Bos.
Upgrading to Regional Referee
The Michigan Referee Committee has finalized the 2024 regional referee upgrade process. You are eligible to apply to upgrade if you can answer YES to all of the questions below.
Will you be 18 years or older by December 31, 2023?
Have you been a US Soccer certified referee for three (3) consecutive years?
Have you completed your current 2023 Grassroots Certification requirements?
Have you completed your annual Safe Sport certification?
Can you PASS the FIFA Women's Referee Fitness Test?
Taking into consideration the previous game experience for ONLY ADULT AMATEUR level soccer matches, AND those you will have officiated by December 31, 2023,
Will you have the experience as the center referee for ~ 25 games and 15 as the assistant referee?
For the game count requirement, youth games do not count. Only adult amateur and above will count.
If you qualify and are interested in applying to become a regional referee, please visit this page to submit your application: https://www.michiganrefs.org/referees/upgrade/

Remembering Michael Stewart, 1993-2022
The MRC and entire Michigan Referee community is saddened by the passing of Michael Stewart. Michael grew up in the Saginaw area and attended the University of Michigan before transferring to the University of Central Florida. Even after moving to Florida, Michael always managed to find his way to a soccer pitch when he had time. He refereed at many events including State Cup, regional tournaments, and represented Michigan at Youth Regionals. Michael was a good friend to many in the Michigan & Florida soccer committee and will be greatly missed.
U.S. Soccer Continuing Education Class for Referee Coaches and Mentors
On November 15, Nichole Kramer-Kiuchi co-taught a continuing education class for referee mentors and coaches. The class was hosted by U.S. Soccer and was open to all mentors and coaches across the country. Over 370 people participated in the call.
The topic of the class was challenges. Nichole and her co-instructor, Leland Grant, covered several video clips to discuss various considerations to reach an expected decision for each clip. The discussion was not just about a correct decision but also how to discuss similar incidents if they happened on a game that the participants were observing.
Who is this?
Recently at an MRC event, someone was wearing socks with bananas riding skateboards. Who do you think this was? Share your guess and we will let you know the answer in our January newsletter. Who is this?
2022 Through the Lense- Year in Review
To kick off our 2023 Newsletter, we are asking referees to share their favorite memories of the 2022 season through their lenses. Share your favorite action shots, crew photos, stadium pictures, and more with the MRC. We will share a gallery of what we receive in the next newsletter. You can email your photos to MRC Newsletter Editor Nick Balcer at balcer.nicholas@gmail.com.
A plea for Collegiality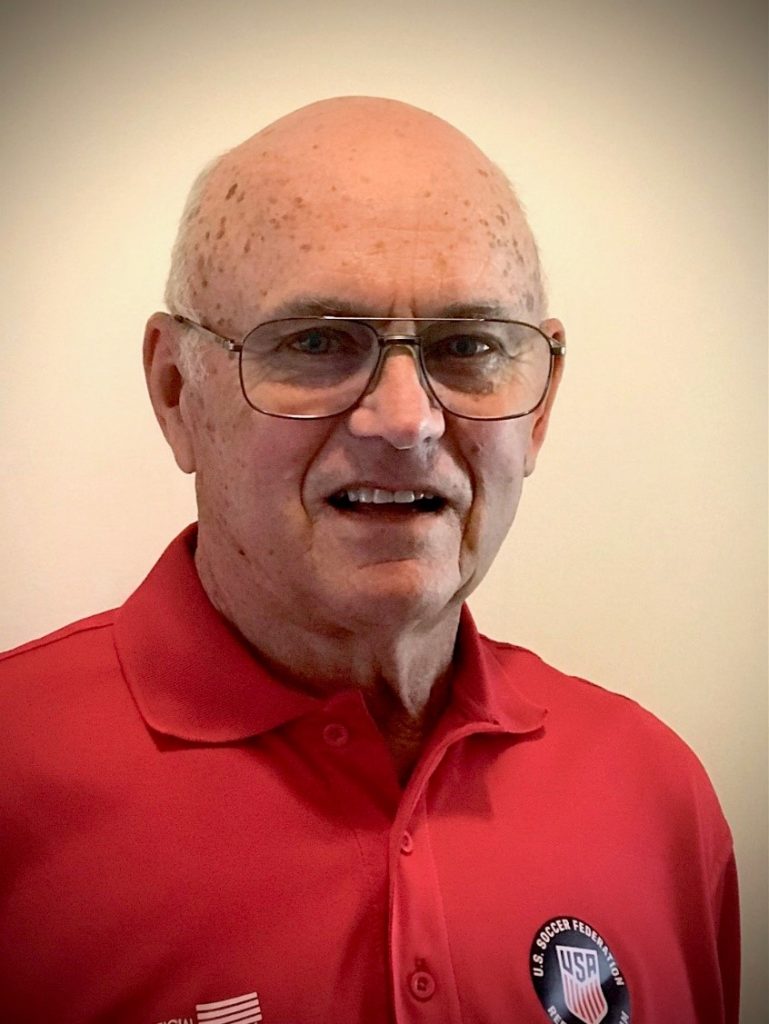 Referees, assignors, coaches, and players share a common purpose to work together to promote and enjoy soccer.
What we need to keep in mind is that in a way we are all really colleagues who should be united in a common purpose; respecting each other's ability to work toward our purpose of a safe competition and development of athletic skill.
In youth soccer, development is the watchword as is safety. As players get more experience and advance in skill, safety and fair play take over from the development aspect.
How can we as referees improve our behavior to promote collegiality with the other parties involved in soccer?
Approaching coaches before the start of the game, introducing ourselves, and exchanging
pleasantries even if it is only about the weather, adds a personal touch and believe it or not, may act as a deterrent to verbal abuse. Are you more likely to yell at a stranger or someone you know and have just talked to exchanging pleasantries? All referees need to understand this and not be shy about introducing themselves especially when they are doing the center for a youth game.
Coaches are not the "enemy" but our colleagues in providing a positive experience for players. It is understandable that a coach will not agree with every call a referee makes. They are motivated by winning. Referees should not be unduly intimidated if a coach speaks out in frustration when a critical call goes against their team as long as they do not persist in dissent. Colleagues do disagree at times.
The coaches can help you if spectators begin to get verbally abusive. Stop the game and politely ask the coach to address the perpetrators to cease their behavior. Addressing this before it gets out of hand is important. I have witnessed coaches who are 100% on board with controlling their spectators and have helped me with them to good effect. Why not give it a try? Good colleagues help each other.
Assignors have a tough job especially with the shortage of referees we have currently. How can you help your colleague, the referee assignor? The first thing is to keep your availability up to date on Game Officials so your assignor does not offer you a game you are not available to do. Second, accept your offers of games within 24 hours so your assignor can move along if you decline and offer the game to someone else in time for the game. Third, if you decline a game, offer an alternative in the comments to fill the game slot. Communicate with your assignor via email with suggestions to help them fill games.
How about your immediate colleagues, fellow referees? One of the most common problems is referees that show up at game time or 5 minutes before kickoff. The other referees are trying to get the game started on time by inspecting the field, checking in the players in, holding the coin toss, and acquiring a suitable game ball. When a member of the officiating team is not there until game time it creates a tense scenario with both the rest of the officials and the coaches who will be worried that offside will not be called correctly in one end and affect the outcome of the game. The center referee should want to have a pregame with their assistant referees if all three are there. When all referees are not there at least 20-30 minutes before kickoff there is not time to do everything properly. Getting to the field with enough time to cover pregame administration is a way of honoring your colleagues.
Finally, what can referees do to enhance the game for the players? Showing empathy for injured players shows that you care. Stop the game immediately in youth games. Go over and ask the player if he/she is all right. Call the coach out, if necessary.
It's OK to compliment players when they score a goal, take a good shot, or make a really good pass. Players appreciate referees that can recognize excellent play.
Smile when it is appropriate to show you are human or even laugh if it does not demean someone. Answer reasonable questions asked with respect. Give players who are getting out of hand a verbal warning with the hope that they will realize they are in jeopardy of receiving a caution. While considering youth players as colleagues is a stretch, they do deserve respect from the referee, and many will respond to respectful communication.
We are all involved in soccer with various roles to play. Understanding each other's roles and
approaching them with a spirit of collegiality makes for more enjoyment for everyone.
---
Michigan Referee Committee

State Referee Administrator (SRA): Carlos Folino
State Referee Chairman (SRC): James Wheeler
State Youth Referee Administrator (SYRA): Ronald Grobbel
State Director of Referee Development (SDRD): Yuya Kiuchi
State Director of Assignors (SDoA): John Corbett
State Director of Futsal (SDF): Richard Gilbert
State Director of Recruitment (mgr.recruitment): Kristy Bos
State Director of Communication (mgr.communications): Eric Siegrist
Manager of Performance Observation (mgr.observation): Tim Deters
Manager of Field Sessions (mgr.field): Jeff Dornseifer
Manager of Video Analysis (mgr.video): Nichole Kramer-Kiuchi
Manager of Pedagogy (mgr.pedagogy): Kalani Burghard


Email addresses are the title in parenthesis plus @michiganrefs.org
Please reach out to us!
If you have any referee-related stories to share or someone you think should be featured in this newsletter, please reach out to the Editor-In-Chief, Nick Balcer at balcer.nicholas@gmail.com.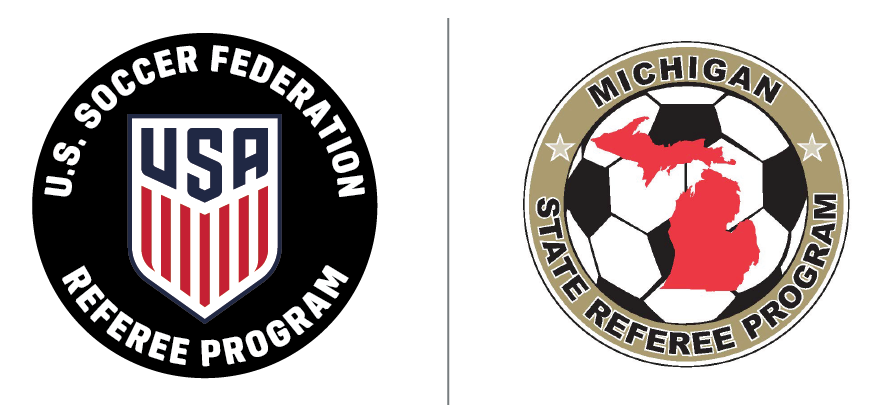 MRC announcements
If you know anyone who would like to become a referee, we offer numerous grassroots referee classes, as well. You can find relevant information here.
Contact one of us on the Michigan Referee Committee if you have any questions.